This post contains affiliate links.
We want the most effective tools and gadgets to help us in homeschooling. Is an Ipad Pro worth it for homeschool? We think you should read on to find our reasons why!
The Ipad Pro supports homeschooling with multimedia tools that digitize notes, and provide tools to sketch, draw and paint. It's compact and provides access to online videos, audiobooks, and video conferencing. With an additional Apple Pencil, it can aid in handwriting and music practice while making it fun.
After using an Ipad Pro for over one year, we find it helpful and so fun to use. We are not a fan of online games, but we think it's an incredible educational tool. 
As homeschoolers, we search for the best tools that are practical and affordable. The Ipad Pro attracts our son to use it for educational purposes and not as a toy in our homeschool.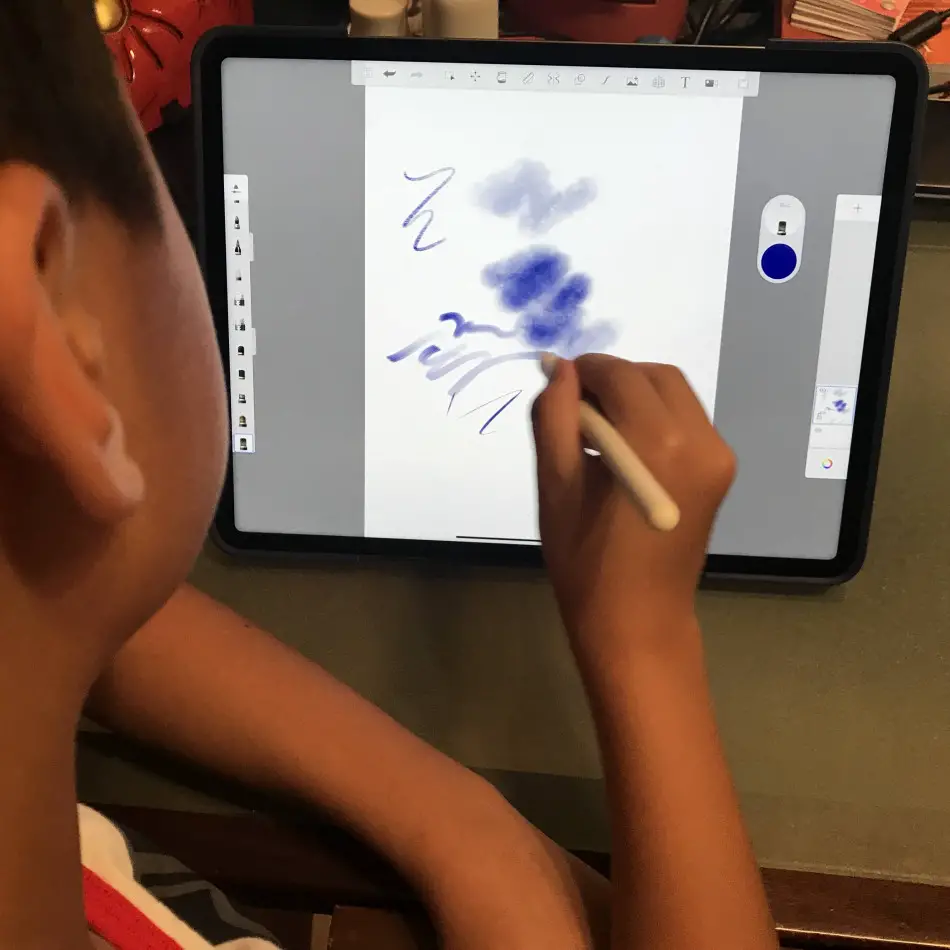 The range of uses is endless, but we enjoy the native and free Notes app for him to doodle during his spare time and for keeping a daily journal. He also writes short handwritten letters to his grandparents. We watch educational YouTube videos on the Ted-Ed channel twice a week during lunch.
We also use the Ipad Pro as a clipboard during Science experiments. We use the Ipad Pro to make digital notes of his observations. And during music practice, we use the Tempo Lite app. It's a metronome for drum practice. Then there is the Yamaha Rec'n'Share app. It not only plays the music for him to accompany his music practice, but it can add a metronome signal and digitally enhance it. Then the tempo can be slowed down without sounding weird.
The combination of fun and educational is hard to beat and we are constantly finding new ways to incorporate the Ipad Pro into our homeschool routine.    
Draw, Sketch and Paint with an Apple Pencil
We use the iPad Pro with an Apple Pencil to let our son draw, sketch, and paint. There are a few apps we like to use to develop his creativity. The first app we found is called Sketchbook by Autodesk. They are the world's premier CAD 2D and 3D software makers. The best part about this software is that it's free and so fun to use. There are so many tools our son teaches himself to use to learn how to draw and sketch. And it's so easy to erase and go back or change colors or change tools.
Another app we use is Clip Studio Paint which is also free for the first three months. And after that, you can find a very affordable plan depending on your budget. This app also uses an Apple Pencil and lets you paint and use so many different brush types as well as airbrushes and other fancy tools. They're all pretty easy to use but the interesting thing is professional artists use the software too. 
Researchers show there are benefits to using Ipads in the classroom for art. So we certainly try it in our homeschool as well.
"through using iPads, students achieved the expected comprehension and performance of artistic skills and knowledge, gained more interest in artistic learning, aroused creative abilities, and generated innovative forms of artistic practices."

Does iPad technology bolster art teaching and learning?
But I find that my son can also learn how to use this all by himself. It's so much easier to use these apps to develop their creativity and it's not messy like using paints and real media. And everything is digital so you can edit, go back and share your work. Of course, you can also save it and leave it for another day to work on. 
These apps are inspiring and powerful tools. We appreciate the iPad Pro and Apple Pencil so much more now that we incorporate the use of these apps in our daily life. We take them with us when we're at the restaurant and waiting around. Sometimes, we bring the Ipad Pro when we visit friends and it keeps him occupied. But we think it's much more educational to use this than just sitting around and watching TV or some other mundane thing.  
Use Notes App to Keep a Daily Journal and Doodling
Our son uses the Notes app on the iPad Pro to keep a daily journal. He writes down what he did, what he thought, the Highlights, and is there anything he can improve for tomorrow. He also does this whenever he feels like making a note about something. Scientists do recommend this activity for its obvious benefits.
He uses the Ipad Pro to doodle in the Notes app which can be pretty fun. In this app, you can sketch with a few tools and adjust the colors. It's certainly not a professional sketching tool like SketchBook. What is fun for some quick doodling and that is also shareable. 
You don't necessarily need an Apple Pencil for this activity. You can also find an economical stylus that works with an iPad Pro as well. We would recommend getting a stylus from Amazon to try out with your family first. Once you see if it works out for you you can try an Apple Pencil because it's more precise and has more functions. 
Handwriting and Letter Writing Practice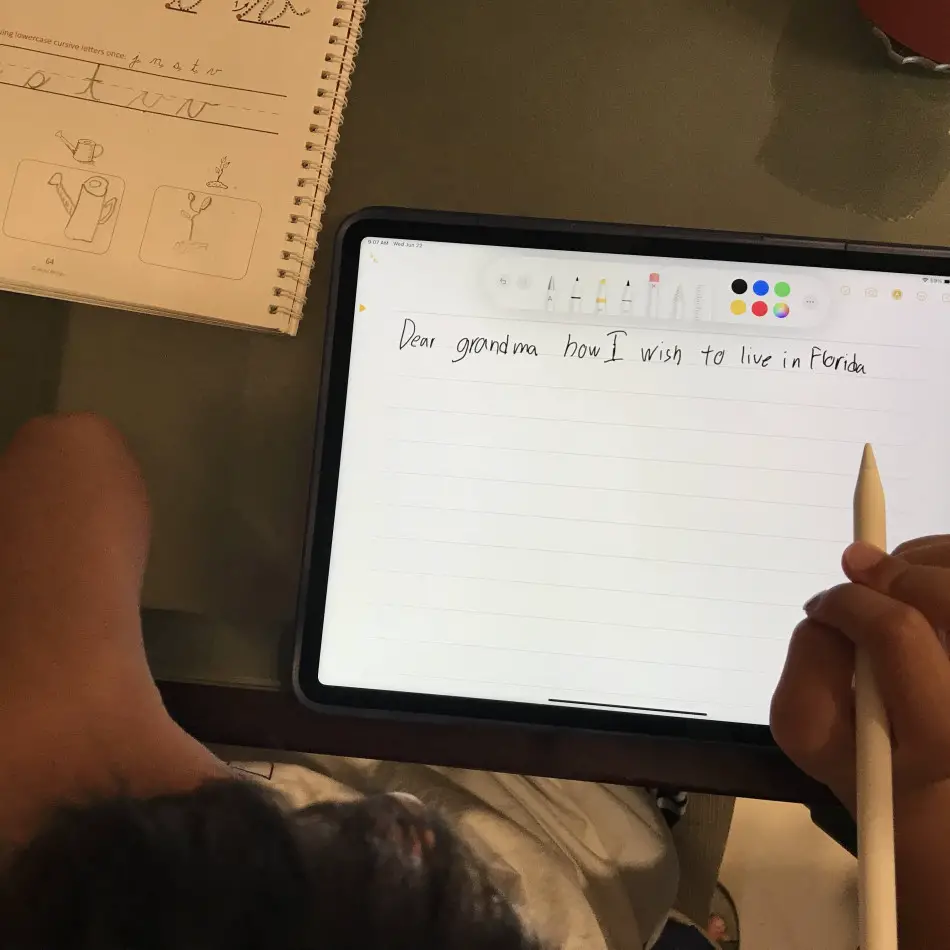 Our son does daily lessons for handwriting in The Good and the Beautiful, but he also uses the Ipad Pro for extra handwriting practice. Did you know you can select lines and gridlines for writing in Notes? There are a few choices possible in both wide and narrow rules. It is like writing on paper and lets you write in nice straight lines. This is great to give guides for drawing, graphics, and handwriting written letters and notes. 
In our homeschool, we like to write handwritten letters to family and friends. Isn't it nice to get a letter from someone? Not just a normal message, but one they write by hand? By using the Notes app, you can write letters that look like your own handwriting. Just like you are writing on paper! It's easy to edit, go back, and with a click, you can send it to grandma or your teacher.   
Video Calls on Facetime and Zoom
The iPad Pro also has a cool feature when you're using the FaceTime app. It's called center stage and this function is like a camera following you to make sure you and the subject area are in the center of the picture. This is very useful when you are making video calls to your friends and family and you don't need to adjust the iPad. The iPad will follow you in using its software. the quality of calls that you can Mase on FaceTime is superb. It's a fun way to connect with family living in a far-off state or another country.
We also use the iPad Pro with Zoom and we feel this is good for our son to learn about this technology because it will be more prevalent in the future. He can use it to call his friends end we use it with some online courses. for example, during some covid restrictions times, we had to use it for taking part in an hour church activities as well as online lessons. IPad Pro is perfect for this and provides superior pictures and sound quality. 
Recording Videos for YouTube Channel
IPad Pro has excellent cameras in the front and rear for taking videos and photos. We like the iPad Pro for making some quick videos for our entertainment and for sending them to family and friends. My son also enjoys making an occasional video to upload to our YouTube channel at Dadcarestoo.
When you use the iPad Pro with a nice iPad case like OtterBoxSymmetry Series 360 Case for IPAD PRO you can stand the iPad up to get the proper camera angle. And this makes for excellent videos for you to share with your friends and family. It's also fun to let your son learn about video making, video editing, how to add music, and other effects. We're not condoning the use of social media but rather the tools that they will most likely need to use in the future.
Music Practice, Metronome, and Music Player
If your children play music in a band or learn an instrument by themselves, the iPad Pro is super useful for music practice in your homeschool. We use the apps like Tempo Lite which is a metronome. Our son uses that to keep the rhythm during his drumming practice. It's got so many features that I don't know how to even set them. But his teacher knows and shows him. My wife is a music teacher so that's her duty!
The Yamaha RecnShare app as we mention is also a powerful piece of software that you can take any music in your library and put into a new file where you can slow the tempo down. For example, if an original Van Halen song is at a tempo of 110 beats per minute (BPM), this is too fast for my son. He has to slow it down. 
So my son uses this software to play it at a slower speed like 60 BPM when he's just learning the song for the first time. This is such an amazing piece of software to practice music with. It slows the music down but it still sounds like the original music, not in slow motion. Does that make sense?

And if you want to know how to add music to your homeschool routine or you're searching for the best instrument to play in homeschool, please check out the helpful articles we wrote about this. We have first-hand experience because my wife is a music teacher by profession. 

Dadcarestoo is a participant in the Amazon Services LLC Associates Program, an affiliate advertising program designed to provide a means for sites to earn advertising fees by advertising and linking to Amazon.com. We also participate in other affiliate programs which compensate us for referring traffic.