This post contains affiliate links.
Many parents would like to introduce music into their curriculum and homeschooling routine. But is it possible to do even if we are not music teachers? Let's see.
You can add music to your homeschooling routine by creating an environment of music. Start with classical background music in the home. Then introduce music with age-appropriate tools. Lastly, immerse them and begin to learn an instrument. Finally, do a regular performance or join a band.
Adding music to your homeschooling routine will take setting the stage for immersing your family in the right environment. Just imagine how any musician might have their home and begin to add music in the background.  We have an Alexa in our home and it's so easy to play something soothing or upbeat in the background. My son can even choose his own songs that he likes by himself. In the car, you can also play some music as you do your daily errands and sing along to your favorite tune.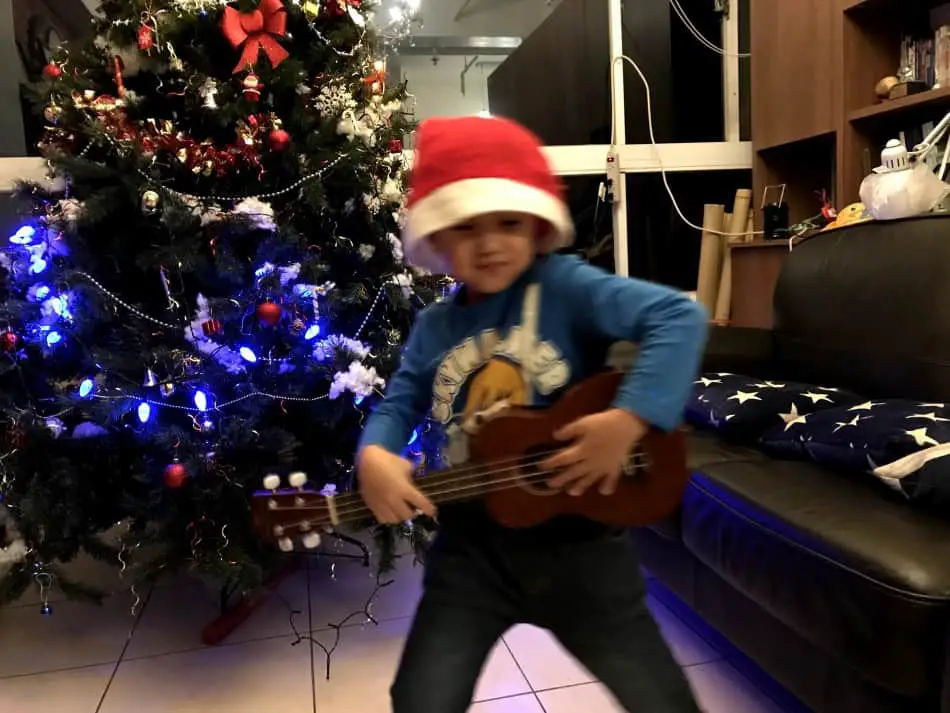 You can introduce them to age-appropriate music, even your own! You don't always have to listen to Baby Shark! We started early with our children, especially our son and we also have a kid's xylophone set for him to play with. Check out that link because kids love to play it. When he was younger he also had a drum set, percussion instruments, and some whistles. The next stage will be to introduce a simple instrument to begin playing. Try something like a recorder or a ukulele. They are cheap and easy to learn. The ultimate is to learn together with them! 
Create a Music Environment in your Homeschool Early
I have to admit that I am a lucky Dad because my wife is a music teacher. She is a graduate of Music Education and is a classical music teacher. She can play the cello, piano ukulele, and other simple instruments.  She even sings well! So you would think she is playing her cello and singing sweet melodies to us all day? No, that doesn't happen. But we are playing music in the background when we are having our meals. As I mentioned, Alexa is so convenient for us to play some Spotify playlists or even Youtube music. 
In our house, we do appreciate music more since my wife is a music lover herself. But that doesn't necessarily make it any easier. It makes it more intense! I started to learn the piano when I was in my mid-thirties from my then-to-be wife. But it takes practice every day to get good at just learning the notes and positions of the keys. And you have to practice if you want to get good. We have a piano in the house so our children are exposed to music, as much as we can muster. Are they little Mozart's yet? No, but we look forward to their appreciation of music.   
Music in The Home From Birth is Ideal for Homeschooling 
If your children are already born then you can skip this paragraph. But our start with music in our environment began before my youngest son was born. My wife used baby Mozart CDs and as a musician, she was playing music all the time. The cello has a deep rich sound and the vibrations could surely go through to the womb. My son was hearing all kinds of music as he was developing inside. Evidence has long suggested music is good for developing babies and we agree. See the article here from Parents.  
One other experience we had with our youngest son was just letting him tag along during our choir practice. He joined us during our choir practice only 2 times and he surprised us. Aaron was signing the words all by himself after we got back home. Children can pick up a tune without barely trying! This is also well documented that children are very capable to learn new songs quickly. It also helps them with other skills such as reading skills. See this informative journal article of 30 article reviews here. Let your children be around music at home, in the car, and when you are out and about.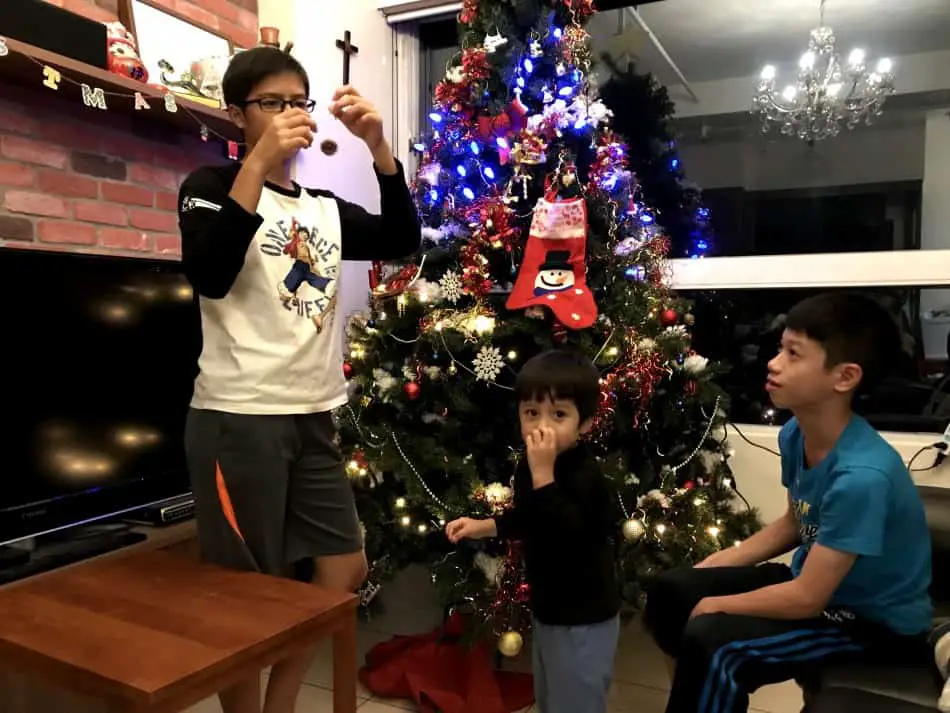 Another time I love to play some ethnic music is when I make my favorite Spanish rice. My family loves it and I love to play some traditional Spanish guitar music that adds another dimension to my flavorful dish. I put them in the mood and make them feel like they are actually in Spain and enjoy the world's best rice and music! And one of my favorite times of the year is Christmas. My dad made a CD with all of his favorite hits and of course, I love them too. When I was growing up I heard them all playing. Listening to those hits takes me back in time to my childhood.  
Music Helps Learning: Add it To Homeschool Curriculum
The New York Times Bestselling author and teacher of Teach Like Your Hair's on Fire: The Methods and Madness Inside Room 56, Raffe said that at first, he was very worried about his students taking music. He was worried that spending 1 hour 2 times per week in band class outside of his class was bad. But he soon realized that the students who were in music performed even better. They were keeping up with the work AND scoring higher on their tests. 
"They are learning about things far beyond the art they study…he is not only learning to play the violin or clarinet, but he is also learning about discipline, responsibility, teamwork, sacrifice, practice, correcting mistakes, listening, and time management"

Rafe Esquith
Now the author believes that music and the arts actually help kids focus and develop discipline. They also learn how to practice and improve step-by-step. Research shows the benefits for older children and that music helps them learn more effectively. He has so many other good suggestions as well, we recommend it for other reasons if you want to learn more about great teaching. It's for anyone wanting to improve and use some innovative ways to help children learn HOW to learn.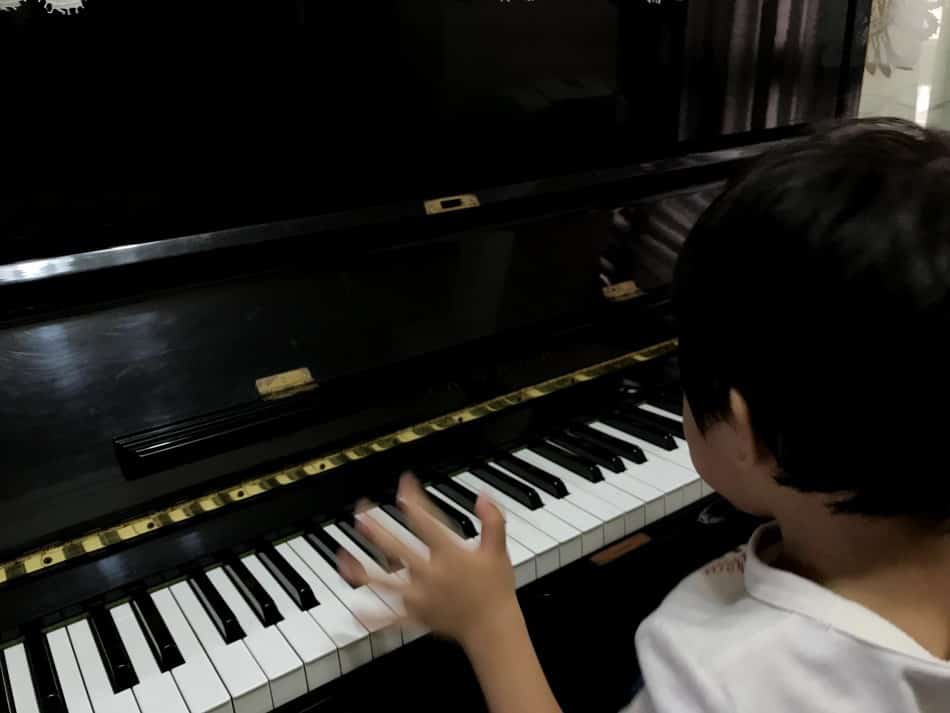 What age to Start Music Lesson in Homeschool?
My wife teaches children from the age of 6 to high school and also adults. She believes that it depends on what the parents want their children to experience in music. Does the child have an interest simply to learn an instrument for recreational purposes, like a hobby? Or do they want to attend a music-centered school? Many of her students attend the local conservatory for music. Students there still learn the basic subjects like other students. But they also need to focus on learning 2 instruments. One main instrument and a minor instrument, just like when we are in college, a major and minor. 
Sensorial Materials in Montessori Classrooms Importance
In the Montessori methods of teaching, movement and music play an important role in the classroom. They have an entire curriculum for child development that incorporates music with movement and cognition. Sensory Materials are critical in helping shape the young child's mind and open up the creativity inside.

"In using Sensorial Materials, the child has to perceive, make judgments, reason, and decide by his or her actions on materials."
Montessori: The Science Behind the Genius, Lillard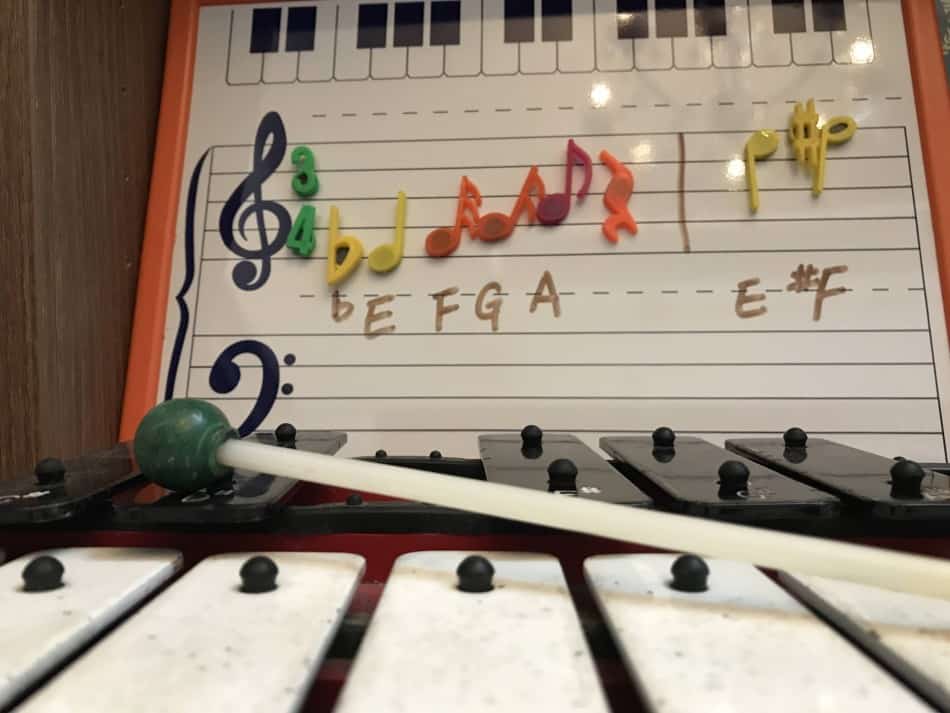 There are Children Sized Instruments
The earlier the better. However, if the question relates to the best age to start learning an instrument it depends on which instrument. Some factors have to do with the size of the child and their ability to grip some instruments. For example, a cello has ¼ and ½ sizes for children to use. If they are not physically able to use them, certainly they shouldn't start learning! Same with other string instruments. Check out an informative chart for the sizing of the instruments. 
And check out a 1/4 cello for kids! Personally, I never knew they had small cellos for kids, they are so cute!
3 to 6 Years Old Can Play Simple Percussion Instruments
Toddlers and children up to 6 years old can usually play percussion instruments like simple drums, xylophones, tambourines, and other similar types of percussion instruments. These are easy for kids to hold and explore the beat, rhythm, and timing of the music. At this age, they should be having fun and likely won't have the patience to learn deeply about notes or be able to read sheet music. Some programs specifically for this age include Orff. You may be familiar with this approach as it is a combination of music, dance, and fun chants. 
Check out a few kid's instruments: Kids Xylophone set, Kids Percussion Set
Elementary School Students Can Play a "Real" Instrument! 
Elementary-age students can consider the piano, cello, violin, ukulele, and recorder. These are all great to explore sound, pitch, and tone and are easier to handle. 
The piano is great if they want to play classical music and you can train the left and right brain and improve hand-eye coordination. Music teachers suggest the piano because the sound that comes from the piano is easier to accomplish. For example, a string instrument requires much coordination or the sound will come out wrong. On a piano, you can just tap or "pick" the key and a nice sound will come out. 
The cost of a recorder, ukulele, or a violin is reasonable. The consumables are also easy to get. Moreover, these Instruments are easy to adjust and tune with a little practice by the students. At times the parents may need to help a little if they don't have enough hand strength to tighten the strings. But these are all good starting instruments.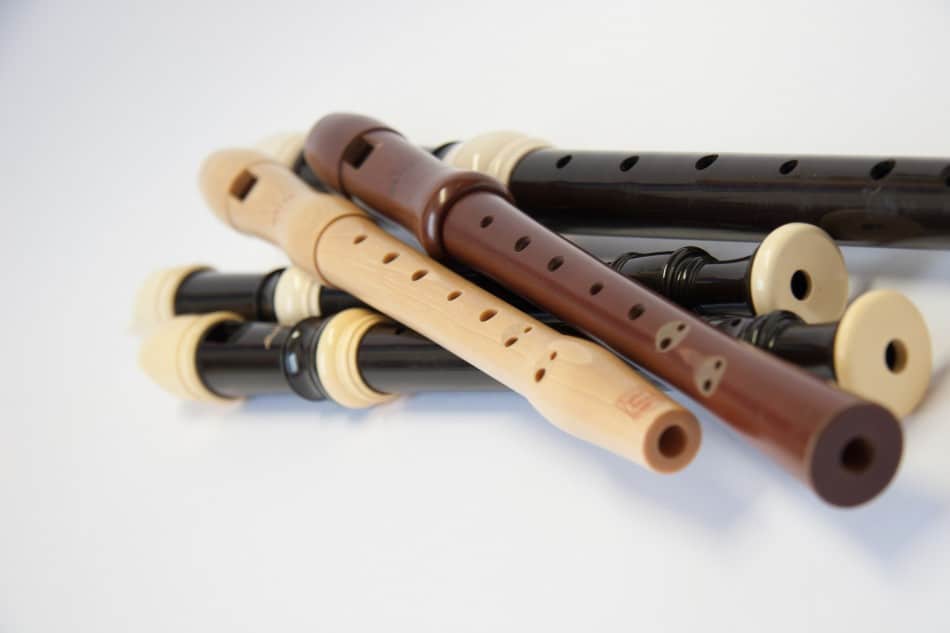 Learning a recorder can lead to kids liking and considering playing a wind instrument. This needs special attention to see if they can use their mouth to properly to blow. And are all of their front teeth developed? If not, they will have trouble with wind instruments. This requires the tongue to be placed on the front teeth to blow properly.   
See this cool video about how the brain is working when musicians are playing music. 
How playing an instrument benefits your brain – Anita Collins
Teaching Music Appreciation in Homeschool
The best age to start learning music appreciation is really from an infant. As we have suggested, you can start from birth if you plan it well. The appreciation of music in homeschooling can begin with playing music in the background like the classics of Mozart, Bach, and Beethoven. These are all such soothing music that they are bound to calm your toddler down and maybe even help you fall asleep! And you can also let them know we are listening to Mozart's Fur Elise. Let them know the piece's name. Once they hear it over and over, they might even ask for it one day by themselves.
When your child becomes more advanced you can begin to also introduce music by the types, instruments, and periods, and then when ready, by composers. You can reference our list below and have fun with it. 
| | | | |
| --- | --- | --- | --- |
| Music Types | By Instruments | Music by Periods | By Composer |
| Classical | Piano concertos | Medieval | Mozart |
| Baroque | Strings | Renaissance | Bach |
| Opera | Wind Instruments | Romantic | Beethoven |
| Jazz | Cello concertos | Classical | Handel |
| Marching | Spanish Guitar | Modern | Vivaldi |
| Folk | Percussion | Neoclassic | Verdi |
| Blues | Brass | Experimentalism | Schumann |
| Country | Keyboard | Minimalism | Wagner |
We also like a book that parents can reference. The book is called Basic Music Theory by Jonathan Harnum. You can check out the book here on Amazon and this is the 4th edition. And you can also check out some of the best resources we found here. To help get your child familiar with types of music, composers, and modern music you can use a mix of weekly exercises for listening and analysis. My wife suggests 2-3 times per week and 30 minutes each.  
Once they are of the right age at least 6, you may start with the simple instruments as we suggested before. Try to practice with some sheet music at least 30 minutes a few times per week at first. Squilt lessons we notice are 30 minutes each and they suggest spending 1 week per lesson.  http://www.squiltmusic.com/
A critical point for starting music appreciation is that it does need to be fun for a child and starting early is one of the best solutions for this. Research shows that it has to be fun and rewarding for it to be beneficial. 
"The positive effects of engagement with music on personal and social development only occur if it is an enjoyable and rewarding experience."
The power of music: Its impact on the intellectual, social and personal development of children and young people
You Can Teach Music by Yourself, Even as A Novice
How can you possibly teach your child a musical instrument? You aren't a music teacher, right? Well fellow parents, as homeschoolers we all are teaching some things we might have difficulty at first as well! But if you learn an instrument with your child wouldn't that be fun? That's right, you can learn with your child. You can choose a simple instrument like a recorder, or the ukulele and there are several online resources. 
Check out this YouTube video of a cool ukulele teacher giving some great tips for beginners.
Once you get some proficiency in an instrument and you feel that your child may benefit from learning with a "real" music teacher, there are many options for that which we will leave to another post.  
How to Practice Music in Homeschool: 30min/day
My wife told me if you want to just learn the basics you must practice 30 minutes per day, period. That is the minimum for being able to learn the basics and keep up the skills. It takes time to build up your hand and finger muscles. For instance, I would always complain that my wrists and forearms were so sore teacher! But my wife said you know why you are sore and tired? Because you don't practice enough! And her 2nd lesson to me about the practice was that if I wanted to get good, I would need to practice the piano for 1 hour per day. There are no shortcuts, sorry.
Record Your Practice Session On Video to Review
But some helpful tips I see her use with her students are that she has them record themselves. Using their smartphone or tablet is fine, and they upload their practice piece for her to review. Then she gives them her suggestions for correction or adjustment. You can do the same with your child's practice. Record it and review it. You might even be able to have a friend or someone you know who plays give a few suggestions. Of course, if you have a music teacher or tutor you could have them review it. It's a great and convenient way to practice music and improve.    
Resources for Music in Homeschool
Best Music Experiences and Locations
As a child, my earliest memory of music was the symphony orchestra that played in my hometown of St. Petersburg, Florida. It was The Nutcracker Suites by Tchaikovsky. It was such a magical experience that I can still remember it today. I was lucky to have my grandparent take me to numerous concerts. At the time, I'm sure I complained and fell asleep at times, but now as an adult, they bring back such good memories. I am so happy they took me to see those concerts. 
The other experience I can remember that also evokes some great memories is the parades and my favorite attraction as a kid in Epcot. The German pavilion restaurant where they had the Oompa bands playing on the raised stage. As a kid, I loved it and still get a kick when I visit because it was such an amazing experience. So take your children to a jazz festival or Shakespeare in the Park or any musical event, opera, or play and they will love it for life.  
Oompa band, Epcot
Dadcarestoo is a participant in the Amazon Services LLC Associates Program, an affiliate advertising program designed to provide a means for sites to earn advertising fees by advertising and linking to Amazon.com. We also participate in other affiliate programs which compensate us for referring traffic.