This post contains affiliate links.
Almost everyone wants to find the best resources for education. Now, what about YouTube as a source for homeschooling? We show you how it works for us and why.
YouTube is a complete resource for homeschoolers of all ages. The range of history, science, and technology videos is unprecedented. The ability to filter and add supplementary or complementary material to our curriculum is perfect. But we also create and upload our videos as well to experience video editing so we don't just watch videos, we make them also.
Does this mean you should give up all your homeschool curriculum and use YouTube exclusively? Certainly not, but we like it for very specific uses during the day. Let me show you how we use it.
Are you an authority in every subject? Of course not! So that's why I love YouTube to help me with those tough questions our son asks. I surveyed the homeschoolers I know and 100% of them use YouTube for some portion of homeschooling. About 30% subscribe to specific channels. And over 50% use it for science and other tough subjects. And over 30% use YouTube for history most often as there are so many good videos describing every time in history.
Not only do we use YouTube as a resource, but it can also be used as a tool to create videos and learn about video production. We don't just watch videos, we also use YouTube to make videos of our homeschool journey. Making shorts is something that is quick and easy and our son loves uploading a video. We use the full power of YouTube to make the best use of the free tools for creativity and education. 
YouTube for Learning About Videomaking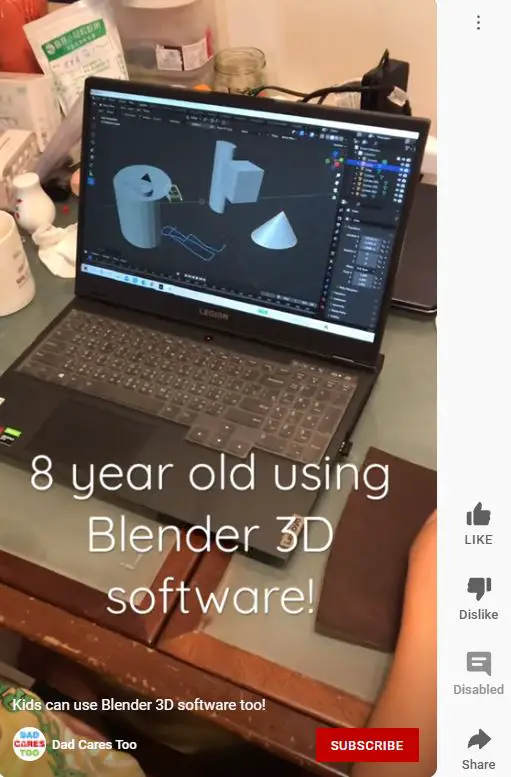 That's right, we don't use YouTube for only watching we use it to make our shorts. It doesn't matter what age your child is. It's fun to make a video and think about how to express yourself in a short time. It's a great way to learn about communication and build confidence in public speaking. Social media is not something that is going away so why not make the best use of this chance? Our son also loves to see how many views he has gotten and we think about how we can do better on the next video.
Shorts is a new feature of YouTube and it means you can make a relatively "short" video of 15 seconds or more. Something fun you do during the homeschool adventure for example. The exact length isn't important. And it's also fun to create your channel for yourself. Don't worry, you can make the videos public or private. You can share it with your friends or keep them to yourself. The point is to use these free tools to learn and use them as a creative form of expression. Do you think YouTube is only for watching fun or silly videos? Nope, it's for learning!
Not Only A Resource For Knowledge: You Can Make Money As Well 
If you are like us, we enjoy as many free or economical resources as we can find of high quality and value. And did you know that you can begin to monetize and earn from people who watch the videos you upload to YouTube after getting 500 subscribers? I'm not saying everyone who is homeschooling needs to have their own YouTube channel. But it is possible to earn while you learn. We think it's a valuable lesson to work on with our son. Sometimes he just starts pretending he is making his video about a particular subject and ends with the "And please don't forget to subscribe!"!       
For our family, we use all of the resources available including sharing our experience in the hopes that it can help others out there. It also allows us to keep up with new ideas and trends and to learn as we grow in our homeschool knowledge. We are certainly not experts and we don't promote it as the only reason to use it. But it may interest you and it is another skill that you or your child might once use in the future. It sure is cool to have your channel and share it with your friends and family! It might even come in handy as a form of record of your homeschool activities for your local school board requirements. 
https://youtube.com/shorts/g3Ko7le-57s?feature=share
Use YouTube to Explore Not Entertain 
In our homeschool schedule, we like to watch a YouTube lesson on something during the lunch hour. While we are preparing lunch our son is allowed to watch something he finds interesting or wants to learn more about from our lessons. A recent one that came up was "What if the world was donut-shaped?" And we found out there is an actual video for this! I'd rather have our son spend time watching something interesting and learn to explore. When he's done watching these videos he usually has other questions that we can watch or plan to follow up on the next time. 
Another fantastic use of YouTube is for exploring how things work. When I was a kid I had to read about these kinds of things and it was fun. But nowadays you can see things in 3D. For example, there is an amazing creator who makes his 3D animated videos about How a combination lock works. Our son wanted to know how a lock works and this was perfect because I certainly have no idea how they work! 
How to Use Homeschool Curriculum Videos are Helpful!
I have to admit some curriculums expect that you have some knowledge of how to use them and may even require teaching guides. With YouTube, it's easy to check how other parents are using the curriculums, how they set up and prepare, and how kids interact with the material. We like this because we can also gain some insight into a new curriculum before we even think about buying and trying. In the beginning, we had a difficult time with using phonics cards and after watching a video we saw how they were incorporated and we noticed we were using them all wrong!
Youtube Videos Can Also Be Private 
Not everything you upload to YouTube has to be public. Some videos you might want to share with only a few people like family and friends. You can set videos to private and they will become unlisted and cannot be found by the public. The only way they can be seen is if you add the viewer's emails and they will be able to see the videos. Also, another option is unlisted videos, where you share a link with people you want to see your video. 
These privacy settings are very helpful when we want to share something within our group of homeschoolers and we don't need to share huge files individually. And group teaching can also utilize this great feature. Using YouTube Studio is not as difficult as you may imagine and now we use it more frequently.  
Dadcarestoo is a participant in the Amazon Services LLC Associates Program, an affiliate advertising program designed to provide a means for sites to earn advertising fees by advertising and linking to Amazon.com. We also participate in other affiliate programs which compensate us for referring traffic.