This post contains affiliate links.
Are you afraid to let your kids near the kitchen? How about them making a mess? In our homeschool we let our kids cook and bake with dad, and let me explain why!
You should bake and cook with your kids in the homeschool because they learn valuable skills while helping. Kids will develop their listening, observation, and organizational skills. Moreover, they can do it with dad to get him involved in the homeschool curriculum and help with cooking duties.  
Learn by Doing: Life Skills That Lead to Self-Sufficiency
Hands-on learning to bake and cook is a life skill that leads to self-sufficiency. When you learn something at an early age like cooking or baking, it sticks with you later in life. For example, I live abroad and when I can't find the foods I like to eat, I just make them myself. My son loves baking cookies now that he knows it's so easy. He told me one day when he has kids, he wants to bake with them also. 
Not only that, but now my son will handle breakfast entirely by himself every morning. He can prepare it all by himself. Since he was about five to six years old, he could make toast, prepare cereal, poach an egg in the microwave, or heat various foods for a balanced meal. This frees up our family to do others things if we want to sleep later or do some early work. He learned at an early age to do safe cooking by himself 
"Participants learn which foods they should eat more of, or less of, and why. They learn the hands-on cooking techniques necessary to prepare almost any delicious, nutritious, easy to make, affordable recipe"

Dr. David Eisenberg, Director of Culinary Nutrition at Harvard Chan's Department of Nutrition
Some of my greatest memories are of me cooking with my mom or other family members at home, camping, or in their homes when I was young. The wonderful smells and the mood of these occasions are something you can still feel in your mind. That's when I realized these are life skills that can be passed down and are valuable for children to learn. As homeschoolers, we strive to instill a sense of lifelong learning. Cooking and baking are great ways to do this.  
Get Dad Involved in Cooking and Baking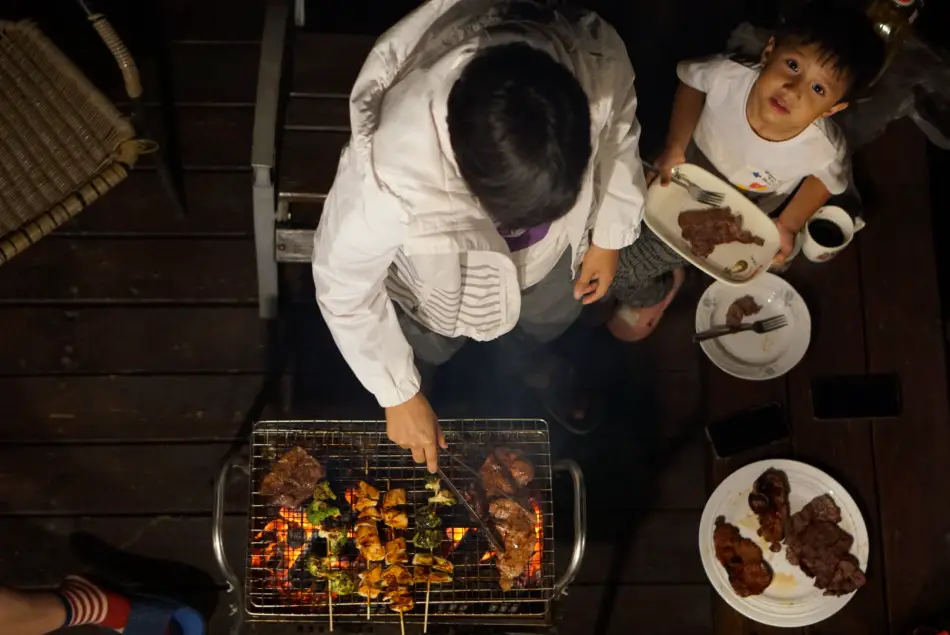 Getting the whole family involved in homeschooling is a task for many families. As a father, I saw that most resources were geared toward women. The majority of homeschooling is done by mothers. I think cooking is a great way to get dads involved with their children in homeschool. We are a busy family, so an extra hand in the kitchen has been such an invaluable way for my children to help out, and get me involved as well. 
We handle the majority of the cooking and baking in our home, and it has been a helpful part of our homeschool curriculum and lifestyle. My wife's work schedule doesn't allow her much time to do cooking during the week, so we do the meal planning and cooking. In the past, we would eat out and do much less home cooking. But since I got involved, we do more home cooking, which is beneficial for our health as research has shown.  
Kids Learn About Nutrition When They Bake & Cook
To cook and bake with your kids is a great opportunity to teach them about nutrition. The earlier they understand calories, balanced diets, and nutrition the better off they will be in the future. Global data suggests that "75% of all worldwide deaths, the majority are related to diet"

"It is estimated that by 2020, non-communicable diseases (NCDs) will account for 60% of all disability-adjusted life years and nearly 75% of all deaths worldwide, with the majority of NCDs related to diet."

Home food preparation practices, experiences, and perceptions…
That's enough reason for me to teach my kids about nutrition as early as possible. The way we do it is to raise their awareness and pique their interest. My son is naturally curious to check food labels and learn about nutrition and caloric content. We also like to use My Fitness Pal to scan labels and also to search foods to read about their macros and nutrition details.
When we cook or bake anything we check the caloric content of the recipe, and the ingredients and we learn about the fat, protein, and carbohydrate values. When we are baking cookies, for example, we try to weigh them afterward to see if they are near the serving size of 20g which is about a 190-calorie cookie. You can also see the amount of time you need to get rid of these calories as a reference, 29 minutes of cycling or 19 minutes of running! 
Introduction to Portion Control
Once they start coking, they will learn about measurements and portions. Like in the cookie baking example, we explore portion and serving sizes. With cookies, I try to make sure my son has one portion which is one cookie per time. Of course, with a glass of milk! We explain to him that he should not have too much sugar at once. He understands this and I trust it will stay with him later in life.


"Setting a good example: parental role modeling is important in establishing children's food choices. Depending on their own foods choice, parents can be either positive or negative role models."

Influence of parental attitudes on the development of children eating behavior
I also explain about his relative that has diabetes, and how they cannot have this cookie because of the sugar content. What you eat affects your health and has implications later in life. So my son is getting an introduction to portion control that he can use to guide his eating habits. Research shows when we eat and model correct eating habits, our children notice and follow suit.


Quality Family Time When You Bake & Cook Together
Did you know the importance of eating at home also can predict whether your children like to eat their vegetables or not? Quality family time and eating at home more than four nights per week is a good start. We always hear that having meals together and cooking at home is a great family activity, but did you know there is also research that proves this is the case?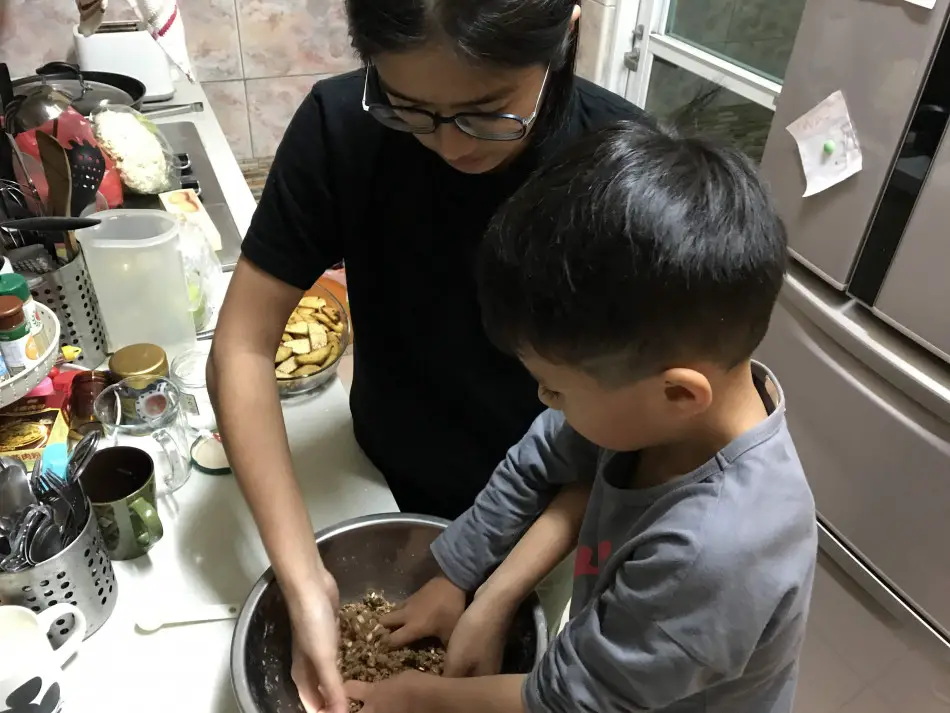 "Frequent family meals increase children's intake of fruits, vegetables, grains, and calcium-rich foods, reduce children's intake of foods with high caloric but low nutrient density, and may protect against obesity later in life."


An Experiential Cooking and Nutrition Education Program Increases Cooking Self-Efficacy and Vegetable Consumption in Children in Grades 3–8
One of the coolest things we've seen is baking kits that you can get delivered to your home. You get the kits with all the ingredients and instructions to make some tasty treats. You can do simple things and just bake your chocolate chip cookies as we do. But Baketivity is such a cool thing to try!
Teach Importance of Safety in the Kitchen
It's extremely important to teach safety in the kitchen. Knife safety, hot items, and glassware are not the only things. I learned that an important aspect is food safety as well. Kids up to middle school are aware of the dangers of food safety, but they are not clear about how to prevent and stay safe. This means how to prepare, store and handle the food so you will not get food poisoning. 
"Little attention has been given to children and teen's understanding of safe food-handling knowledge and skills, despite their interests in studying food safety and preparing food, growing food, shopping and preparation responsibilities"
Food Safety Knowledge and Beliefs of Middle School Children: Implications for Food Safety Educators
Dads can always be good leaders about discipline in the home and the kitchen. We teach our children to wash their hands for 20 seconds whenever they return home and walk through the front door. The same applies when they work in the kitchen. Good hygiene is the start of a safe kitchen. You'll also need to make sure they understand how to store and safely serve food. Using easy-to-open containers with good seals like Rubbermaid Snap Bases is a good choice for us.   
When kids cook and bake with dad, they all get a chance to learn, help and serve the family. When we were baking cookies, they got first-hand knowledge of how to cream butter, sugar, and eggs. They also know it is unsafe to lick the bowl since the eggs are raw! I'm introducing food preparation like thoroughly cooking meats, eggs, and other raw materials. Now he can poach an egg in the microwave and make sure it's well done. He also gets that meats should be cooked well.   
Experience the Technology of Cooking and Baking
As a nerdy dad, I love using all kinds of cool tools for cooking like digital thermometers, and IR temperature scanners like the Fluke Industrial Scanner. Don't be fooled by the name, you can use it for cooking and around the home to repair things and search for leaks. My son also enjoys these " high-tech" tools. He also has fun being a scientist and sticking the Thermapen into the chicken to ensure it's ready to eat.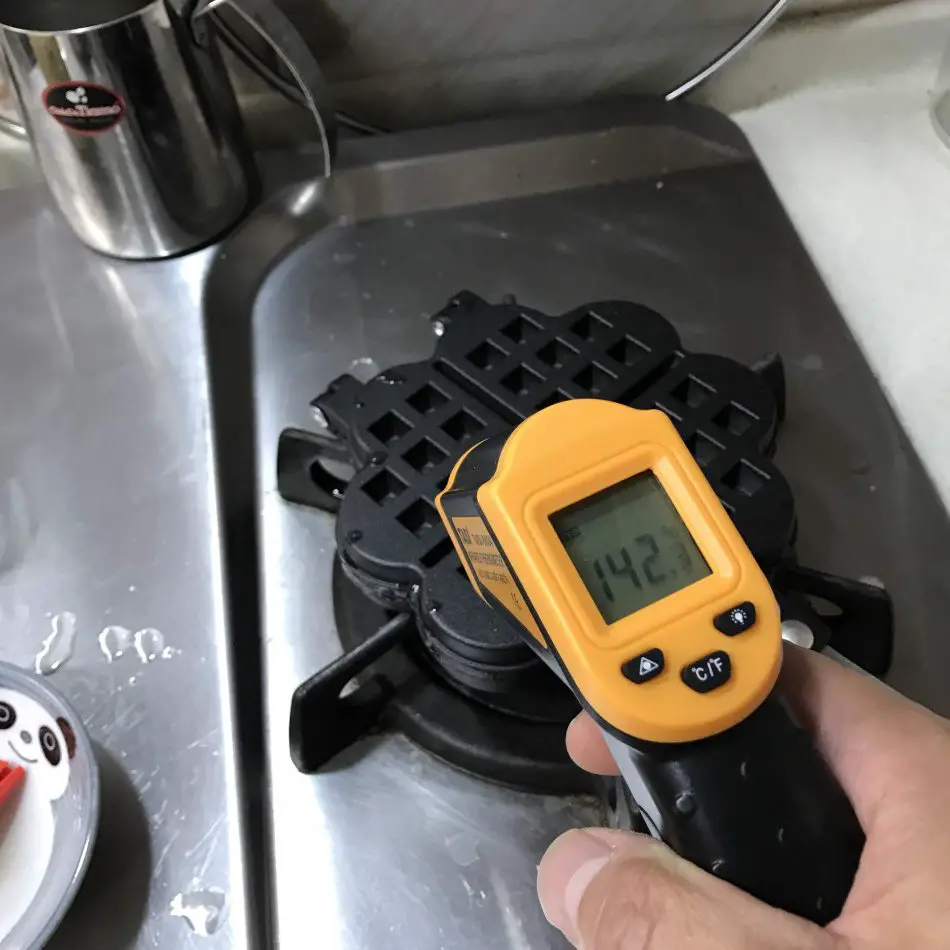 Baking can be fun as well with lots of gadgets and chances for dad and your child to explore. When we make waffles we will check the pan temperature is an optimal 191C. And we like to use a precision digital scale to weigh our dry ingredients. Baking bread or cookies is science and we enjoy using the right gadgets! 
Experience all of the different techniques of cooking. Boiling, baking, stir fry, microwave use, and pressure cooking. Our aim is to teach them how to have them appreciate and learn about cooking and baking so they will never go hungry and they eat healthily. Try out as many cool gadgets and favorite recipes as you can. There are simple dinner and baking recipes that take less than 30 minutes.   
Apply Math and Science Concepts 
In our recent studies, we have reviewed volume measurement in both the customary system of the US and metrics. Being a good scientist also requires excellent measurement skills. Dry measurements of powders and spices as well as liquid measurements are critical in chemistry. You can apply what you learn while cooking and baking. These are hands-on applications that can reinforce what you learn in your math and science lessons. 
Did you know how to measure liquids in a measuring cup or beaker? You have to measure from the bottom of the meniscus, not the top right? I'll admit that before I baked with my son and measured liquids in a beaker, I forgot about this important principle. I also found out you'd better get accurate measuring cups like these I found and are recommended by many.    
Since I also have a science background, a B.S. in Biology, and a minor in Chemistry, I know it's best to use a scale for measuring all ingredients for baking. After baking bread and numerous failures, we use a scale in our homeschool baking lessons. When my son applies his scientific methods to baking and cooking it lets him realize the importance of learning these things. If he follows the recipe, he can make the best cookies and bread he's ever tasted! 
Leads to Rewards and Sense of Accomplishment
Cooking and baking lead to many rewards in our homeschool journey. Firstly, they fill the house with wonderful aromas that make the neighbors salivate. When you bake some banana bread or a beef stew, it can fill your house with wonderful smells. Being able to bake, my son can use his skills to prepare a batch of cookies in no time to share with his friends, family, and mom! Who doesn't like freshly baked cookies from their kid?
Baking and cooking also lead to a sense of accomplishment for my son. Like when he can help to prepare dinner for us, he feels proud that he's made a valuable contribution to the family. Now it's just cooking pasta and seasoning it. But this is a big help for us since we both work from home and it's a big help for us.  
Reward Mom and Help With Chores
As mentioned before, I'm a homeschooling dad, so we like to help out mom by cooking and baking. Isn't it nice to be able to assist your spouse and family to prepare a nice warm meal for her when she gets home? My wife also loves to be able to share the desserts and treats with her colleagues and students. She's a music teacher and gets back late. So we help out as much as we can since she's such a hard worker.  
Cooking and baking also lead to lots of dirty dishes, pots, and pans, right? So this also is a great way to share and teach about the chores at home that need to be handled. In homeschool, it seems like a natural way to teach about chores. This is also a great way to teach about the organization of spices, pots, and pans, and how to load the dishwasher. That's an art in itself! 
To be honest we could go on and on about how important it is to teach kids how to cook and bake in the homeschool because it involves such an important topic that we need for survival. These are just some of the things our family does in our homeschool. 
Dadcarestoo is a participant in the Amazon Services LLC Associates Program, an affiliate advertising program designed to provide a means for sites to earn advertising fees by advertising and linking to Amazon.com. We also participate in other affiliate programs which compensate us for referring traffic.