This post contains affiliate links.
Do you think you made the wrong decision to homeschool your child? Is it because they seem distracted and can't seem to learn something today? Maybe they don't even want to do their lessons but roll around on the ground?
To homeschool a distracted child you need a routine. Create a schedule together and then the space for learning in your home. Warm-up, exercise, or play before studies can help and allow play during the day. Schedule socialization and sleep to keep mentally prepared. The variety and fun help with distractions.   
Depending on the age of your homeschooler will determine your potential strategies to get them back on track. Our youngest child at around age 6 has been well adjusted to homeschooling since we did it starting from a young age. It will require more patience on your part to calmly assess the distractions and take action to get back n schedule. If your child is a teenager then there are different ways you can choose to remove the distractions. And then motivate them to get back to studying.  
Routine is Critical for Young or Older Students
Getting into a routine to follow is a very helpful way to stay focused and not be distracted. These 2 things go hand in hand. We started early for our son to get in a habit to learn in the evening when he was still in kindergarten outside of our homeschool. The routine was we would arrive home from school and he could wash his bowls and clean up his backpack. Then while I prepared dinner he could do 1 subject like tracing his letters before dinner was ready. This took 10 minutes for him since he was only 5 years old so we did not have him do too much at once. 
We got our son used to doing learning like this in the evening in small chunks of time. This was to gradually get him into homeschooling and learning by himself. It didn't always work due to unforeseen temper tantrums or perhaps I needed him to help prepare dinner with me. This is also a part of our homeschool routine to keep him focused and helpful. See this article where we discuss how to get dad involved in homeschool by preparing meals as one of the ways. But we suggest to do a soft start of the routine and you can gradually add time or subject as your child becomes used to learning in the home.
We find that this principle of routine is apparent in many aspects of kids growing up so we find it's no different for homeschooling. You can read about its importance in the article we have quoted below: 
Family routines have been linked to the development of social skills and academic success, and adherence to family routines has been identified as important for family resilience during times of crisis.

The Importance of Creating Habits and Routine
Soft Start a Routine with Older Kids
With older kids, you can also implement a soft start during the off period like winter or summer vacations. If you are considering homeschool and you have the time we highly recommend starting a simple routine before you actually decide and officially begin homeschooling. This will allow your children and the family to get used to this new lifestyle. It is not something that can be implemented quickly and is not recommended unless the family situation leaves no other options. To try with your older child go with an online curriculum that can be set up very conveniently and with no cost, like Khan Academy or IXL. These online curriculums are accessible by anyone with an internet connection and your child and you can become familiar with self-directed learning in no time at all.
I recently tried an Edx course with my daughter because she wanted to learn more about American culture and the Smithsonian has an incredible online course about it. They discuss which American icons are curated and the topics are America the Beautiful, Rights and Liberties, Spirit and Invention, and American Icons. It's a great way for her to do some self-directed learning and if she wants to further her homeschool experience she is primed and knows what it's like. It only takes 5 weeks at 1-2 hours per week and is video-based with some note-taking. The most incredible part is that it's free!        
Create the Schedule Together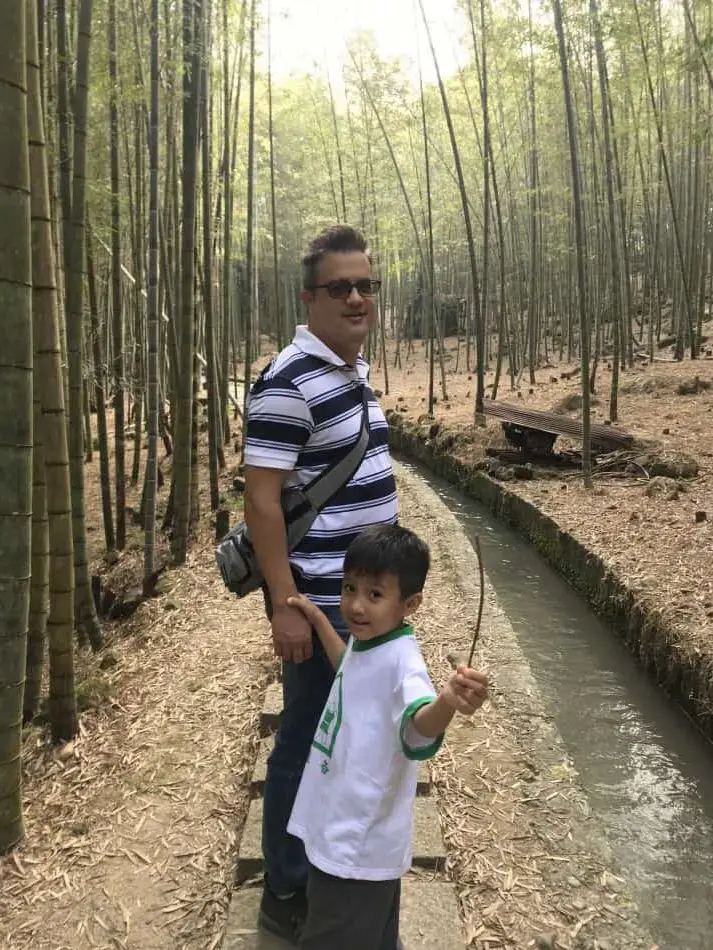 If we make a schedule with our children they have a greater chance of following it. This is mainly with my younger child and we will make a schedule weekly for him and get his input. For younger kids, it's more simple because there are fewer subjects and the time involved for homeschool is less. I have also found that my son will need to be reminded beforehand about a class. This means he gets prompted that the next subject we will be doing is to learn some math for example. And he will be primed for it and it gives me a chance to sense what mood he is in for learning. 
Some days are great and he just jumps into the subject. However, if the feedback seems like he is not in the best mood to start I try to change that. If your child is not in the mood to study, you can try to do something fun they like to do for a few minutes. This usually gets them back into the right frame of mind to study and learn something. For example, with my son, we will try to play a game of Go which is the oldest board game played since ancient times, over 2500 years ago. After he has a chance to relax and calm down then we can continue with our lessons.    
Now with older kids, since they are both more mature, we don't seem to have any issues with them about this. But we assume that they are more mature and create their own schedules. Therefore, they follow them with minimal supervision. We will only have to check their progress and quality of their work. But we try to keep informed with their schedule so we can plan the family schedule and trips or weekend activities. Every once in a while we will have conflicts, but we can work them out and their school work takes precedence.    
Create a Space for Learning in the Homeschool
Recently we rearranged the workspace for homeschool to declutter and make more space for our son. His area was overrun with so many books and stuff that we had to add some shelves and extra space for him. It may seem like a simple task to handle but it does make a big difference. You should ideally have a quiet space in the home for them to work undisturbed. There should be adequate lighting and our area is set away from any distracting windows. We live in a high rise and it has some nice views but we try to stay away from them. Or it could draw our son's attention away from schoolwork.
Clutter-Free Desk in Quiet Part of Homes
The desk is kept clean and free of all items except the necessary books, papers, or workbooks. Everything else is put away and there certainly should not be any toys or electronic devices nearby. The TV is off and no one is to be listening to the radio or tablet which would disturb your kids. We have to give them a quiet space to study. Nothing should disturb them or cause them to not be focused on their subjects. This all seems to be common sense, but you should make your best effort to check the area again to make sure your children are in the best place to be focused on their work. We do occasionally have Deep Focus Mozart playing in the background on Alexa but not when we are doing drawing classes. 
Do you want to do art with your children to teach them how to draw? See our article about how to add art and drawing to your homeschooling routine.  
The most ideal set up is to create a separate room for learning in your homeschool. Not a bedroom where your children sleep. It should be completely separated so they are in the right mindset when they are in that room. Sleep is in the bedroom, schoolwork in the homeschool. If you don't have the space for it, then it's perfectly fine to do it in another room or wherever you have that can be partially separated and without distractions. We use a space in our dining room and have a special desk for our son and all his bookcases are next to his desk. There are no windows and distractions. And there is no TV to draw his attention away.   
Public Library is a Quiet Place for Homeschooling
Another suggestion is to go to a public library for certain periods of the day to make use of a quiet environment. If there is no suitable place in the home for a quiet area to do homeschool you have other options. The library in our neighborhood is an amazing place with separate rooms you can book in advance or just find a nice cubicle. There are so many conveniences like a special room where you can make copies, have a snack, or take a break from the "quiet". It's also a great environment since it just makes you feel like you're supposed to study. Everyone around you is reading quietly and studying.
Homeschool Locations Outside of Home!
Who said that homeschool has to be done in the home? Classes and studying can take place anywhere you decide is suitable and provides a great environment for learning. We also consider to use the library occasionally as a way for variety and to meet other homeschool families. You can easily schedule a few days per week at different locations for a few hours per day. This is an excellent way to break up the day and give your student a good way to keep motivated and get out of the home. It can also be coordinated as a field trip or meet up with other homeschoolers or friends. Don't be so set on doing everything from home! Who wouldn't want to do some studying at a nice picnic pavilion by the lake or the beach?
Warm Up, Exercise & Play Before the Homeschool Day Begins
If your kids are elementary or middle school age an even better way to make sure your child is ready for learning is to let them run and play before they start their homeschool day. When I used to take my kids to any child care center in the morning, the first thing they do is let the kids play like crazy until about 9 am. They get to hang out with friends, play Ultraman, ride the tricycles and run and jump all around in the play yard. Then they would settle down, take a quick snack break drink water, and then get to classwork. Before I started to homeschool, I never considered this was important and I didn't realize the importance of this simple tactic.
Even if your kids are older you can let them go on a walk with you or take a bike ride in the neighborhood. It's a super way to spend time with your kids and get some fresh air and exercise. It also helps you warm up and get in the mood for learning. This we find is helpful and yes, it does take time to get used to. My teenagers would rather sit and relax on the couch like it's Saturday morning. But we insist on getting them out and about. If they don't need it or protest, you can adjust the time to the afternoon. But we find this is a good way to warm up the mind and body.     
Allow Time to Play During the School Day
Everyone likes to play no matter if we are young or old. Just because your children are learning in your home doesn't mean that they need to be glued to their desks all day long. The homeschooling schedule should include some fun activities and have multiple chances for socialization. As a homeschooling family, you will need to create these chances for your child to play and hang out with other children. They need to meet and play and have friendships as they grow up as all kids do! Our target is to get our kids out of the house at least 2 times per day. 
And other social activities should be arranged like sports, music, art, or other extracurricular meetups. We aim for 2-4 per week and certainly as your students grow up, there will be advanced courses that need to be learned outside of the home. This will also allow your kids to learn and be active and play with otters. Play is not always as we think of it like running and jumping, but can also be other physical or mental activity unrelated to study. This downtime is critical for your children to relax and take in what they have learned. We like this article from down under about teens and physical activity and how to work it into your schedule.   
Schedule Socialization 3 Times Per Week or More
Hanging out with friends during the school day is only natural, so make sure your child has ample time to make friends and play. This also gives your kids something to look forward to and they will be less distracted. Since you homeschool, you need to schedule socialization time for them to hang out. You're in control of their social life now and you can be more selective about who they make friends with. This can be an advantage for some and others may think it is a burden or disadvantage We find this is just fine and we can arrange many ways for our son to be with other kids of all ages. 
We find that when you search around and talk to others they don't seem to mention the importance of actually scheduling this into your routine. But we suggest that you plan this social time for your child at least 3 times per week. This means it can be a class or activity where they will have a chance to meet other kids near their age. It's fine if there are older or younger kids. They have to learn how to relate to all age groups. It is ideal if they have extra time to hang out, not just join a class and leave. This doesn't serve them well since they won't have a chance to make any friendships this way. That would be like in public school where they just have a class and then no other interaction afterward. 
Set a Sleep Schedule and Stick to It
As a homeschooler, this is a benefit you can use to your advantage. Make sure that there is a good habit of going to bed at a regular hour and that there is quiet time or reading time before bed to relax. A good night's rest of over 8 hours is ideal. It's hard to concentrate or focus on anything if you feel drowsy. Our younger son has been in a habit of going to bed by 8:30 pm since he was 4 years old. However, now he goes to be slightly later, but we aim for before 9 pm. Our older children are more difficult to get them to bed by 10 pm. But we try to get them in the habit so they will be well-rested. Research shows a short sleep period result in poor performance. 
We thought it was common knowledge but we do like to remind you that IQ and other cognitive function is hindered by short amounts of sleep.

Brain imaging has shown that after chronic sleep deprivation in adolescents, brain areas that actively maintain attention have to work much harder to sustain performance during a memory task
Centre for Educational Neuroscience
The good news is that not only does getting a good night's rest help with concentration, it also boosts your learning by retention. Your explicit memory can be enhanced through a good night's rest. That means you can optimize memory or consolidate memory. You can read more about it here, and I found it fascinating but well worth understanding.    
Take Naps in Homeschool to Boost Focus
I know many families do not take naps in the United States. But since I've been living in Asia, I have found that this daily habit is prevalent even in the workplace. Not only do kids have a daily nap mostly until High School but so do adults. You can walk into many offices around Asia at 12:30 and you might find the lights out and people with their heads on their desks. This is normal and I have found even in my older age, I like it! A power nap for me of even 15-20 minutes is very refreshing. 
So not only can a nap help your kids concentrate and stay well-rested, it can help the parents as well. In Japan, they even have napping cafes! If you can benefit from a nap so can your kids. From this other article published in Sleep about kids and naps, you can see it says they perform better academically, have fewer behavioral problems, and are happier!
Use a Variety of Teaching Methods
Once you begin to homeschool your kids you will discover their learning preferences and this is something you can also use to help teach a distracted kid. If you vary the methods of how you teach or how they do their lessons you will reap the benefits for sure. Reading a lesson, then writing some notes, and watching a short film or listening to an audiobook might all be a good way to take in some material. Depending on your kid's preferences you can adjust the curriculum to their benefit.
How your child demonstrates their proficiency in a subject can also be done if a few different ways. Do they always have to do worksheets or quizzes? How about making a quick video and uploading it to Youtube? This can not only be fun but it can help them understand how to use some of today's latest technologies and become familiar with these tools that might help them someday. How about making a Powerpoint presentation that they share with the family and you can all have fun with it? You might even learn something new.
Boardgame or Quick Activity to Get Moving
Have you ever tried playing a board game with your child during the day? Well, we never have either before we read about it online as a way to get a distracted child back on task. It's a recommended way to try to get a kid to focus and might even help them learn some patience. From that same article, it's suggested as a substitute for taking time out to handle a behavior problem. That's right, you might try it instead of punishment! Play a game of chess or backgammon instead of sitting in the corner. I guess it's kind of like picking up a set of boxing gloves and hitting a body bag instead of beating someone up.
Another activity to help a distracted child might be to take a quick bike ride or a walk or jog around the block. Do you have a dog? Let them take the dog for a walk and get some fresh air. If it's something that seems to work well, then schedule it every day. Sometimes you can think of seat work for a child is like an office worker having to sit at their desk for eight hours a day. They have to get up frequently and have some active brisk walks to get the blood circulating!    
Relaxation or Meditation to Get Focused
Our last suggestion is for something to try when you both need a break. You can try to meditate with your kid for a few minutes at first and see how it can help. The research shows it is beneficial and you might be surprised at the results. It helps to reduce stress and they can learn to use it even when they grow up and throughout life. 
Kids who practice yoga, meditation, and mindfulness build skills of attention, self-awareness, self-management leading to more responsible decision making and pro-social behavior.

Yoga 4 Classrooms founder Lisa Flynn
Also, you can watch this helpful video and try out this doctor's advice about how to get your kids to concentrate better. 
How to Boost Kids Concentration in 3 Easy Steps
Overall we suggest many ways we have tried to teach our child when they become distracted. They have worked for us but we constantly need to work on it and find new ways to reinforce learning and more importantly help them develop a desire and love for learning. Most of our suggestions are ways to prevent and reduce the chances of becoming less focused and distracted. Have fun with it!
Dadcarestoo is a participant in the Amazon Services LLC Associates Program, an affiliate advertising program designed to provide a means for sites to earn advertising fees by advertising and linking to Amazon.com. We also participate in other affiliate programs which compensate us for referring traffic.