This post contains affiliate links.
Did you ever think about going camping and homeschooling at the same time? If you schedule and plan this activity correctly you can do both and have fun. Let's show you how.
In order to stay on schedule with your homeschooling you need to plan your camping perfectly. Camping and homeschooling require an organized mom or dad team. You must have a complete plan, prepare the equipment, and pack the essentials.
To have a great camping experience we share our guide to the perfect camping experience! The science shows that an outdoor adventure recreation is a therapeutic form of education and refreshing! Let's show you how.  
Select the subjects to study that are easy to prepare for
This may sound like common sense, but only prepare the subjects that you can prepare for with minimal packing requirements. For example, leave the chemistry set at home! Stick to subjects that you only need some worksheets, composition books and a textbook. The most ideal would be to prepare the pdf worksheets or reading material then it will be even less to pack. This is also a good activity in planning for your child for them to prepare and practice packing for travel, or in this case camping! Of course, you will have to double-check if they got everything and don't forget something to write with!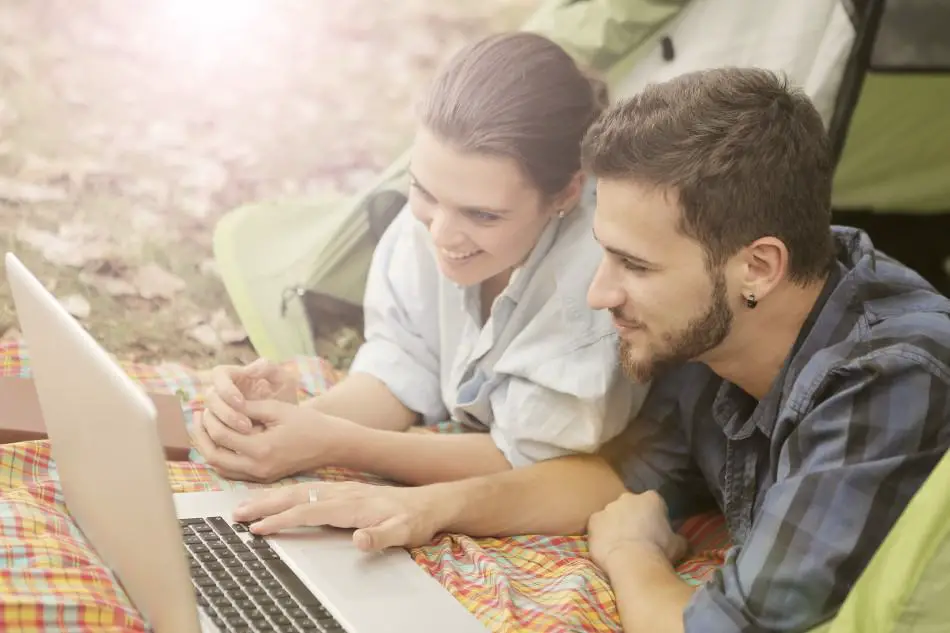 Once your kids have selected the subjects to study and prepared all the materials they need to take, make sure to pack them in watertight bags. Keep them from getting wet or damaged. Better be safe than sorry. And make sure they are not overpacking. Camping requires you to pack the least and lightest things so you will have less to carry and forget! Did you know camping has been around in North America since the early 1900's? Learn more about it here. The Camper's Handbook was written in 1908 by Thomas Hiram Holding.
Prepare science subjects & fun activities, you're in nature!
As mentioned earlier, science shows outdoor activities are a great way for education. You can see the article here. 
I like to prepare some activities that focus on science. For example, how to collect and prepare leaf samples for study. This is where you collect and press in a simple notebook. You can identify the leaves and tree, record the date, and other data like a little scientist. You will probably need to have reference material or you could check when you get back from camping. Definitely prepare a small magnifying glass for observing our little crawling friends like insects. And you might even bring a few bags or small bottles or vials for collecting samples and bringing home.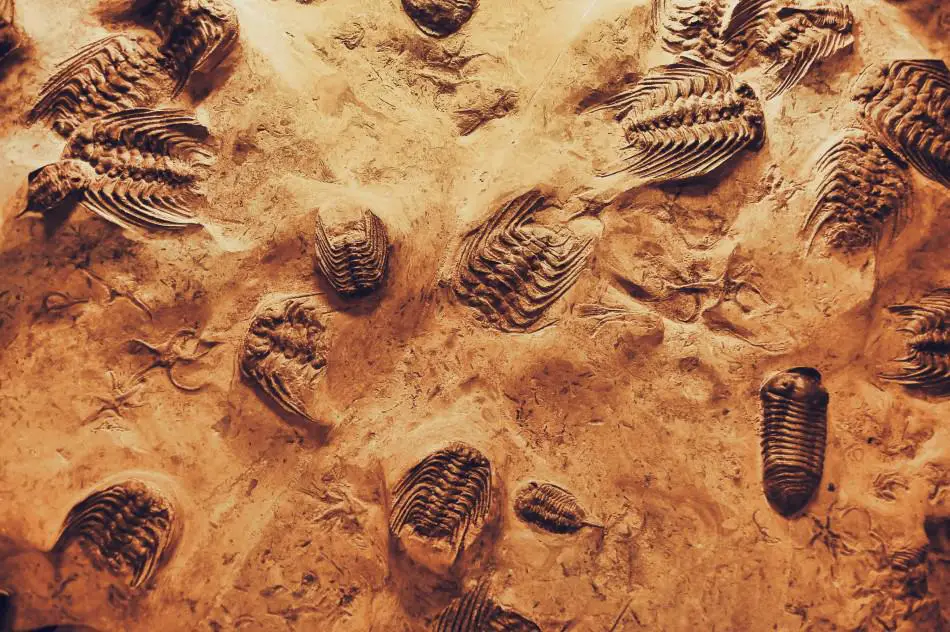 Another activity my son likes is a part of our homeschooling curriculum, geology. And we search for fossils in the rocks we collect in the stream or on the hikes we take. The area we go camping in has lots of rocks that we can easily find simple marine fossils and kids always like hunting for these little treasures. They can learn about the types of rocks and how they got there in the hills or mountains. My son always asked me how this marine shell can be up here in the mountain!
Select when and where to camp, spring and autumn are best
Where we live the best time of the year to go camping is either in autumn or springtime. Both of these periods of time are perfect because it doesn't rain and the temperature is just right. Make sure you check your local weather forecasts to choose the right dates. We find the ideal temperature for camping should be below 25C (77F). Then you won't need to bring a fan or portable air conditioner. Next, you should make sure it's good weather for doing your homeschooling and studying without worrying about rain or snow! Kids will also learn about the weather patterns and will have fun to keep their eye on the weather in the days leading up to your camping trip. 
If you go camping in the winter or summer time just remember you're going to need to take a lot more equipment. And you will also need to prepare alternative activities and bring a lot of extra equipment. We would suggest if you want to do camping and homeschool at the same time avoid summer and winter! You will reduce the number of headaches and trouble and stay on schedule.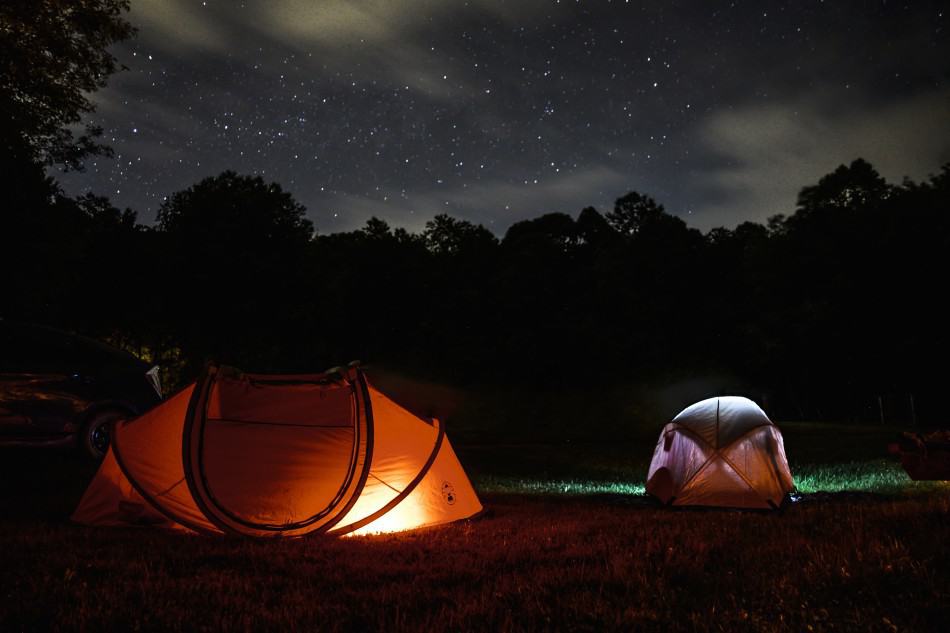 Another key point in our planning process is to try and select a campground that is near 1000m in height (3280ft). This way we have found the weather is just right for camping outdoors. There seem to be fewer bugs and once again the temperature is very pleasant and not hot. If you cannot find a campsite with an elevation near 1000m it might get a little too hot. Of course, if there are no campsites at higher elevations, then you will certainly need to bring something to keep your cool. Always prepare a fan. We have a USB mini DC fan with a spare smartphone charging battery to run it for hours. 
Create a camping list with your homeschooler 
Your little homeschooler will love to help you prepare the camping equipment list. Learning by doing is the best way to learn as cited in this article. 
Once you have picked the right location and date you're ready to prepare the equipment. If you are a newcomer to camping you might run into problems when you're preparing and packing your car. I still remember the first time I went camping with my two kids and realized I could not fit all of my stuff in the car. I had to re-pack and start over again. When you're packing keep in mind how much space you have in a vehicle. I know it sounds like common sense but please do check. 
Once you know when you're going to go I like to start my list very early. And I always use a digital checklist because you can always update and any time of the day or wherever you are. And the best thing about this if you go camping this time and you forget something you can add to it for next time. I use my iPhone Notes app to keep my camping list and I share it with my wife. That way she can add to it also. I share a screenshot of my list below but every family might need their own particular items.
Once you have all the camping and homeschooling equipment and materials ready, it's time to prepare your personal items. This is also a very good activity for your homeschooler. You can ask your child to prepare one set of clothes per day. And this is a good way to see if they are able to prepare everything by themselves. Of course, you have the check to make sure they take all the things they'll need. Make sure they take the important thing like their toothbrush toothpaste and maybe a hairdryer as well. My wife always needs a hairdryer and the last time we forgot it. This is only if your campsite will have AC power. If you have a portable generator that's even better.
Your child should also prepare any particular sleeping items they prefer at night time. For example, a special pillow, blanket or their favorite dolls. you don't want to forget those critical items for younger children. It will make them feel more like at home but in the wilderness.  And one last important thing is an LED light or lamp so you can read a bedtime story. Make sure they choose a nice little book to read together. 
Pack some educational tools for learning at the campsite
Some educational tools for the campsite are things you might not always think about. For example, we like to bring a pair of small bird-watching binoculars. You're certainly going to run into some birds when you wake up in the morning. this is a great activity to do before having some breakfast. Walk around your campsite and do some exploring with your homeschooler. And you might even take a little composition or Sketchbook with you. When you're camping with your homeschooler this is a wonderful opportunity for sketching things in nature. 
If you are working on an art class this is the perfect opportunity to sketch a landscape. Maybe you can sketch the mountains or even your cute little tent. One other thing you can prepare a little flashlight for your child. You might need this when they need to go to the bathroom at night and you have to walk in the dark. If they bring their little flashlight they can also do a little exploring of course near the campsite only.
Get your homeschooler to prepare a simple menu
Every homeschooler can learn how to prepare for a camping meal. This is also a great way to introduce your kids how to cook while camping. Because the food items you prepare for camping will require some thought. For example, you need to pre-prepare things in advance so you can save time. When you're camping it's much better to pre-prepare your food so you can. And you can spend more time with your family rather than cooking and preparing everything at your campsite. Get your homeschooler to enjoy camp cooking. 
Our family's go-to dinners are very simple but still very delicious. I like to make my famous Spanish rice in advance. Then all I need to do is simply heated up in a skillet at the campsite. And our second go-to entree is salmon. You can cook a piece of salmon in a matter of minutes. I add all the spices and marinate it and it's ready to go.  
Our breakfast is also very simple. Usually, we just bring some yogurt, bagels and if we happen to feel more ambitious I bring some pre-prepared scrambled eggs, that's it.  Sometimes we might bring some tortillas to make breakfast burritos. I like to keep the meals as simple and healthy as possible. And bring easy to handle fruit. Certainly, take whatever you like but we usually save time by just bringing apples, bananas, cherries, and easy to handle fruits.  
Prepare activities that highlight plants, animals and weather
When you're out in nature this is the best type of classroom. Actually you don't really have to prepare anything because nature prepared it for you already. You can simply schedule a few activities like a nature hike. Learn about local plants and trees. You might even contact the campsite owner to learn about any particular types of animals or birds that are endemic to the campsite. Then you can also keep your child aware of the weather. My son as soon as he knows we're going camping wants to check the weather every day. Because one time when we wanted to do some homeschool camping, we had to cancel because of the rain. So our son will check on Alexa every morning about the weather. 
As we mentioned earlier you can also prepare to do a scavenger hunt. we like to search for fossils because my son is interested in dinosaurs. We've never found any dinosaur part but we have found many Marine fossils on our nature walk. Depending on where you go camping for sure you have many opportunities to collect the leaves and sticks and maybe even some beetles. My son loves it when he finds different kinds of beetles. And lastly don't forget stargazing at night time. You can download one of the stargazing apps on your phone Point your phone in the direction of the Stars. And you can find any bright star in the night sky. Usually, where we go it's certainly clear and very dark in the countryside. It's a perfect time to see some Stars. When we're in the city where we live it's extremely hard to see any other stars except Sirius. 
Pack a Safety and First aid kit 
Every homeschool camping trip should include so safety and first aid kits. We always take bandages, antiseptic and an ear thermometer. You never know when somebody will get a fever so we just bring an ear thermometer with us. We also take some basic medicine like fever and pain killers as well as something for an upset stomach. And we always take AfterBite in case somebody's bitten by some mosquito or ants. Certainly don't forget to take some good insect repellent like Off or your favorite brand. We even bring some indoor electric Foggers that we turn on in the evening before we're sleeping in our tent. That way when we are ready for sleep all the bugs will be kept away or hopefully, they have died before we're ready to sleep. This is also a good opportunity for your homeschooler to learn how to prepare in case of an emergency. 
Plan to go with other homeschooling families
Lastly, some advice is to get in touch with other homeschooling families. This is a superb opportunity for you to go camping together with other homeschooling parents. Get together and enjoy the Great Outdoors. Socialization time is always a bonus when you're camping. because we find that when you go camping you always forget something. But if you go with other families it's more likely somebody will have brought that item that you forgot to bring. This can be a lifesaver trust me.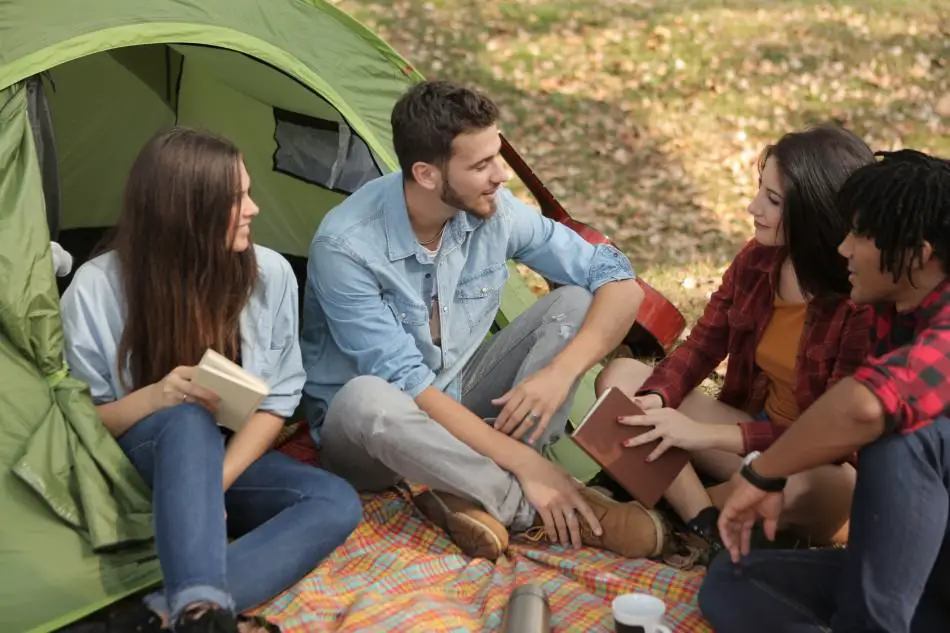 But on a serious note when you're out camping with other homeschooling families you get time to relax and share what's working with your family. Others can share some good tips that they use to make homeschooling more effective. Use this relaxing chance to help each other. We try to go camping at least four or five times a year. Yes, maybe this is not enough but we feel this is a great way to do things as a family and keep on our homeschooling schedule while having fun!
Dadcarestoo is a participant in the Amazon Services LLC Associates Program, an affiliate advertising program designed to provide a means for sites to earn advertising fees by advertising and linking to Amazon.com. We also participate in other affiliate programs which compensate us for referring traffic.