This post contains affiliate links.
Do you think homeschooling will save you money or cost a fortune? I'm a father who has insight into the hidden costs of why the homeschool curriculum is so expensive. 
Homeschool curriculums are expensive because of the time, textbooks, online video options, personalized service, and accreditation. Online homeschool curriculums are costly due to monthly membership fees and even free curriculums have costly fees for color printing for the thousands of pages of the material. 
Most Expensive Traditional Textbook-Based Curriculums?
Some of the most expensive homeschool curriculums we have found are Book Shark, Abeka, and Apologia. The yearly cost for one subject per child can be over $355 to over $1488. And depending on how many children you have that can add up quickly. Much of the cost will be spent on the actual books and textbooks you buy.
And some expensive curriculums also have video options for you to assist with the lessons. 
There is a website that offers a whole list of books you can use per grade level here. It would cost hundreds of dollars to buy all the books on the list and that's expensive for one child. 
Below is the cost of the 3 major text-based curriculum providers we found and the cost for grade 1 and Grade 10 for comparison. There are some other services you may choose with each of them but the books alone are expensive for curriculum in our opinion.
Note: We don't include the links direct to the pricing because they are always changing. You can check them out and we provide some screenshots. Apologia is a special curriculum type and they base their system on the creation of God and are a heavily science-based education. 
Free Curriculums? They are Still Expensive
We use a free curriculum that we downloaded in PDF format. Then we took it to our local print shop and made color copies and spiral bound it. The Good and the Beautiful has offered language arts and math for levels one through six completely free. You can also purchase their curriculums directly and they will print them in high-quality color formats for you.
But the free curriculums are actually expensive because you still have to print the material out if you want to use them. The math curriculum is over 350 pages, language arts is 345 pages, and the reader supplement is 470 pages. Color copies of these 1000+ pages are quite expensive. So unless you only use them by watching from your computer, those curriculums are not actually completely free. 
We chose to print them ourselves because we have immediate access to the files which in our situation was helpful because we were in a hurry. If you can wait for the package to arrive then you can certainly buy everything directly from them. We have also purchased curricula from them directly when we were not in a rush to get the material.
Print Costs of Expensive "Free Curriculums"
Subject
Pages
Color Print Cost ($0.40/pc)
B & W Print Cost
($0.10/pc)
TGTB Language Arts-Level 2
345 
$138
$35
TGTB Personal & Shared Reader
316+154
$188
$47
TGTB Math-Level 2
354
$142
$35
Total Print Cost
$468
$117
"Free" Curriculum Costs
Note: You can print out black and white copies, but just beware that some lessons require color to sort certain parts of the lesson, so if you can't tell the colors, then the lessons are more difficult. And your print cost may be different for adding spiral bound or binders. The costs are what we pay in our area.
But it is amazing that a company will offer their curriculum for free which is a great service to us homeschoolers.
The cheapest curriculum is going to be the one that you create by yourself. You can reference books and prepare everything by yourself. If you are knowledgeable enough and use good references this could be an economical way of homeschooling. One of the best references we found was The Well Trained Mind by Susan Wise Bauer. Many families have considered this the go-to book for homeschooling.
But there is a free online homeschool curriculum for K-8 and it is completely free. It's called Easy Peasy. You can follow through and use their methods and everything is online and it doesn't cost a thing. This is a very cheap way of homeschooling. We haven't tried any of the courses but it's doable.
Why is curriculum expensive?
Curriculums can be very expensive depending on your choice. Essentially you are buying an educational system, textbooks, answer keys, and parent kits. And some curriculums are just books, then you have to purchase a student kit which could be the associated games, manipulatives, equipment, and materials for a subject. Parent kits from Abeka, for example, cost over $327 for a Grade 1 kit with answer keys, teaching methods information, lesson plans, tests and so much more!  It's expensive to prepare high-quality educational materials.
Abeka also has a video-on-demand option for their highest level of curriculum and it can also come with a teacher-assisted plan. That means someone will be available to you to ask questions and guide you, but not actually teach in real-time. That's an extra $920 per year per student! You can check their website for the most recent details, but that was the price when I wrote this article. 

"For an additional charge, you can access the premium package. The Accredited program provides official report cards and reliable record-keeping by our academic team. With this option, academic assistance is accessible through email, live chat, or phone."
Abeka Academy, Video Enrollment 
Overall, the curriculum can be expensive because of the services, and additional material such as textbooks, kits, videos, and personal attention. In addition, some curricula also come with accreditation. That means you get certificates and records that you can use for application at schools and universities.   
What about Online curriculums?
Online curriculums can also be very expensive as well as printed curriculums and textbooks. You have to pay monthly subscriptions for classes and different levels. And depending on how many students you have in your home this can also add up very quickly. 
Everything is online including the records and documentation and in our opinion this is tricky because if you want to continue to have access you have to keep paying year after year. We prefer printed curriculums because you own the textbooks and you can maintain records and have access to all the information once you purchase it. You can check it anytime you can make copies yourself and we think this is a better way.
IXL, K12, and Time4Learning are some of the top online programs available. The costs range from $24.95/month per student and $14.95 for each additional student from K-8th. That's from Time4Learning, but you need to pay an additional $59.95 per semester if you want to also include a foreign language in the curriculum. That all adds up to over $1018 per year per student!  
There are budget options like ABCmouse for elementary-age kids and it cost $45 per year and IXL costs $19.95 per month. For an additional $5.95 per month, you can add Spanish language learning for a yearly total of $310. 
But you need to be aware that some lessons may require and follow certain textbooks. It's mind-boggling how many lessons they have available online and it seems all very organized by subject, level, and topic.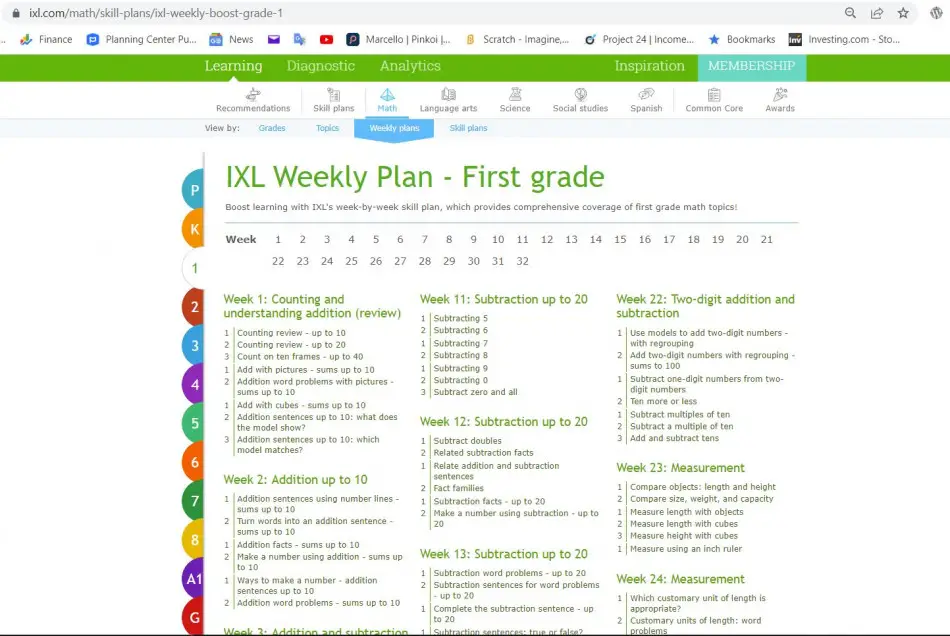 If you are ok with online curriculums there may be economical options. But most seem expensive when you calculate the total yearly cost of membership, and textbook and material requirements. It goes without saying that you need to have a good Internet connection and setup for you and your family if you want to work at home and do streaming lessons.    
K12 was the most expensive online homeschooling system we came across at $4995 per year per student! It is for their private online school option. They also write that your state may have public school options with K12 that are free, so you might want to check on that. One interesting thing we found out was that the textbooks you will need are sent to you by mail. And when you are done, they give you shipping labels and you need to send them back to Stride K12 as they are officially called.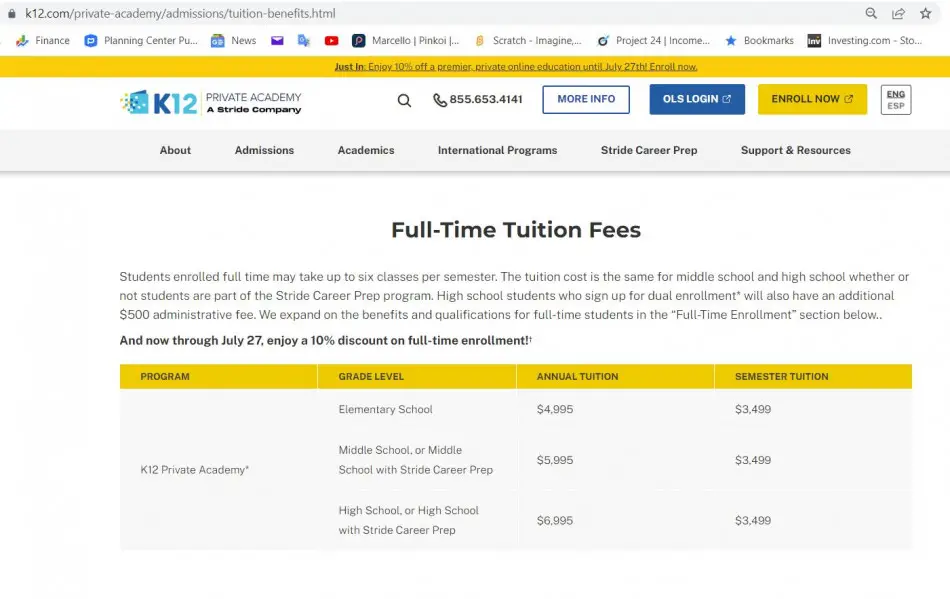 What are the most expensive homeschooling methods?
Private tutoring will be one of the most expensive forms of homeschooling since a teacher will be teaching all of the lessons. There are specialized firms offering this option if you have the means. We came across this Vanity Fair article explaining how the rich do it and it seems like the most expensive way to do homeschooling your child. Does over $100,000 per year sound expensive?
Worldschooling is another form of homeschooling that we find expensive as well. It will depend on how you plan it but think about it like this. You are traveling and living abroad for a year at a time. So you need to pay for accommodations, living expenses, health insurance, and all the other costs related to travel to the destination and back.  
You can check out the video below to see what Worldschooling is all about because it might not be exactly as you imagined it. 
Other expensive parts of homeschooling? Time!
While time is not often considered a part of the curriculum per se, it is a consideration overall that can make homeschooling very expensive. Let me give you a few examples, like in our situation how it takes a lot of time to drive around and wait! 
We need to take our son to and from school every day for him to take part in the extracurricular soccer program. We registered him at a local school for this purpose and to take advantage of the yearly health checkups, vaccinations, and dental checkups that come with being a registered student there. 
We need to travel far to drop him off and then back home and do this twitch per day! That's an extra 2 hours for our family that we can't do other things. If we simply let our son go to the traditional neighborhood school, he could walk there in 4 minutes! 
Some days we do other co-op-related activities and lessons and we need to prepare and also commute. Besides these regular parts of our son's homeschooling, it's also expensive and time-consuming to prepare his lessons and handle the administrative duties of registering him in the local school. That involves report preparation, records, and scheduled interviews. This is something we have to spend time on twice per year, at the start and finish.
Each family will have a slightly different situation, but these hidden costs of homeschooling add up. So you will need to think these little details through carefully while making your plans. Sometimes my wife and I joke that it would be so simple and cheap to just let our son go to a traditional school. Just open the front door and let him go! It wouldn't cost more than $50 per semester for fees and almost no time commitment!     
Public School vs Homeschool: Which is More Expensive?
Our consideration for homeschool was more about the lack of a good option for our son. The typical traditional school here provides a basic education focused on an Asian style of education. Heavily focused on the math and sciences, rote memorization, forcing study of higher levels than kids abilities to "push" them. 
What usually happens is that kids will be easily overwhelmed and will need to attend after-school tutoring programs to be able to catch up with loads of homework and self-learning. We felt this was more "expensive" since we would need to spend more money on private out-of-school tutoring than on the regular part of education. 
And our son would probably be out from 6:30 am to 7 pm every day! When he got to middle and high school he might not be home until after 9-10 pm! In Asia, the after-school daycare consists of tutoring for their homework plus additional lessons for all of the tough subjects. That adds up fast and becomes quite expensive. 
From this aspect, we felt that economically speaking, homeschooling might not be more expensive, but actually, from a time consideration, it would be more efficient. And we would be able to spend more time with our son and teach him what we feel will help him more than a local education will.   
Private School vs Homeschool: Which is More Costly?
The private schools here in Taiwan cost on average $10,034 per semester last we checked. They can get a good education, but most programs are still focused on an Asian style of education where they try to "cram" as much into the kids as possible. There are a few international-style schools but they are all significantly more expensive than homeschooling. 
Once again, the cost of homeschooling compared to private school tuition is too broad of a range to speak of and depends on where you live. But we're sure that in most places in the US, UK, and other countries where homeschooling is legal, it's actually cheaper to homeschool than do private school.  
How To Reduce The Cost Of The Curriculum?
For most families we've spoken to, the books you invest in are the major economic expense and are always going to be expensive. A quality curriculum is going to be expensive. Do you remember how expensive your textbooks were in college? I was in the sciences, and our books cost a small fortune every semester and then you could possibly sell them back for a partial offset. 
Books are always going to be expensive. Use your local libraries as much as possible and share with other homeschool families if you can. 
You might be able to scour the FB groups in your area for deals, or for curriculum, someone doesn't need or didn't use. Also, this online source has a good list of all the usual spots to check. But you'll need to be sure they are in good condition and not written on or missing pages.   
Any Other Options To Reduce Costs?
One way we lower our expensive homeschool curriculum costs is by group ordering books with our other homeschooling friends. Since we live abroad, this makes sense for us and it helps other families as well. We also hear of people buying one set for multiple kids and just not writing in them. Then the younger siblings can use them when they are the right age. 
Since we are using The Good and the Beautiful, our curriculum costs are minimal. We just download the free math and language arts books. You can also download free science courses occasionally as well, but you have to be a part of the Facebook group to see these deals. 
We also wrote a helpful article for The Good and the Beautiful Math review. We enjoy it so far!
Dadcarestoo is a participant in the Amazon Services LLC Associates Program, an affiliate advertising program designed to provide a means for sites to earn advertising fees by advertising and linking to Amazon.com. We also participate in other affiliate programs which compensate us for referring traffic.