This post contains affiliate links.
Have you ever wondered if there is any use for an Apple Pencil in homeschool? If you're always searching for helpful tools for homeschooling, look no further.
1. Use an Apple Pencil for Handwriting Practice
Kids of any age can use an Apple pencil to practice their handwriting skills in a fun way. Using paper and pencil is always the best but if you can use another format to train and help improve penmanship, that's great, right? The data shows kinaesthetic ability is the leading indicator to focus on for improving handwriting skills.
There are many apps that you can find for handwriting practice for a range of ages, but we find the Ipad Pro and Notes works perfectly, and it's free. The Notes app is native to the Ipad and it's ready to use with gridlines or lines, fully adjustable. This is so helpful for writing practice. You can use it anywhere or while waiting in a restaurant to practice while killing some time.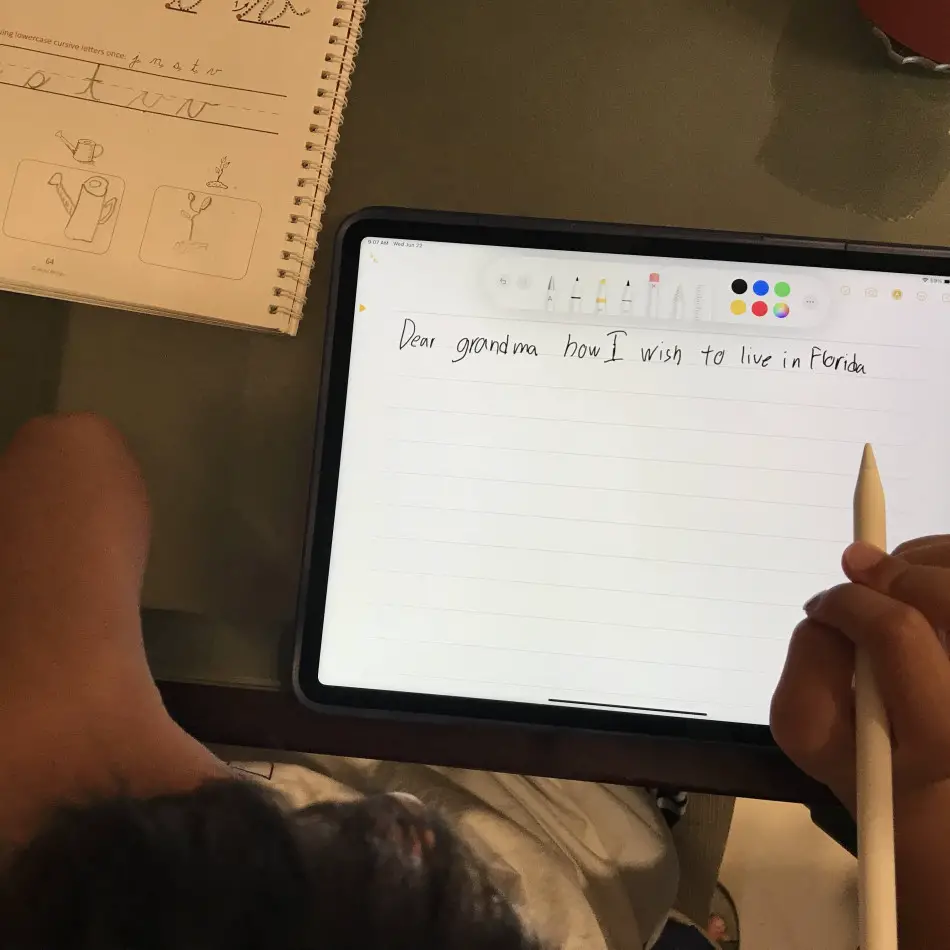 2. Write A Handwritten Letter To Friends And Family
How often do your kids write a letter to their grandparents? We admit that it doesn't happen often except for the holidays. But with the Scribble function and Apple Pencil, you can write letters with ease on the Ipad Pro. Then you can send it to anyone via iMessage or email.
Now, what if you want just a normal stylus for an Ipad? This one should work as a budget pen to try.
Letter writing is a good habit to have and according to researchers, the more you write letters, the better your reading and writing skills will be. We now write letters with an Apple Pencil and send them electronically. Much faster than going to the post office and waiting in line. But the natural look of the handwriting makes it more authentic. And it's easy and quick to erase, correct and edit. 

"writing supports early reading progress, as children master crucial concepts of print while they engage in writing activities. Letter writing can provide an especially empowering form of writing practice, as young children send meaningful written messages to one another, classroom mascots, pen-pals, family members, and even elected officials."

The Reading Teacher
3. Effective Practice with Keeping a Daily Journal
Using an Apple Pen to keep a daily journal sounds cool, right? Well, the benefits of daily writing are obvious, but did you also know that this reflection during writing can also be helpful to kids? It can help them tune in to their feelings and help their composition skills.

"Positive effects include insights into students' feelings, beliefs, values, and attitudes, as well as an examination of how effective practice motivates students to write, which in turn improves their composition skills."

Reflective Journaling: A Portal Into the Virtues of Daily Writing
I've tried to let my son jot down some daily notes in his journal about how he felt, the highlight of the day, and what he needs to work on. And of course, what he felt was fun for the day. You can also update this journal anywhere you have access to Notes or with your Ipad Pro and Apple Pencil. 
4. Draw and Sketch Practice Promotes Connection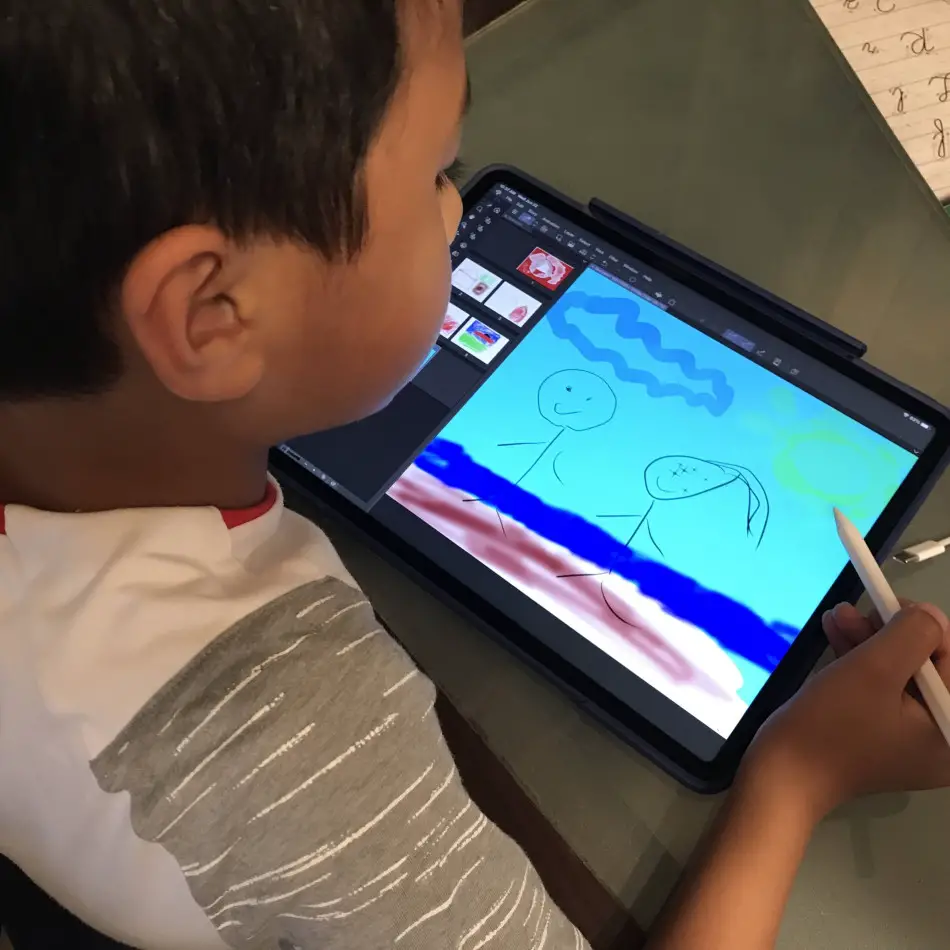 One fun use of the Apple Pencil is drawing and sketching in color. There is no mess to clean up, and endless possibilities to what they can do with all of the basic functions that come with the Ipad Pro. You can easily change, erase and adjust anything in a matter of seconds. There are probably more serious functions and possibilities that even professionals can make use of. 
Did you start art in your homeschool yet? We wrote a helpful article to get you started.
Kids of any age will find it useful in homeschool to learn the art of sketching and drawing. We find some of the most fun apps that are free from the Apple Store are Pigment. There are tools for painting, sketching, watercolor, airbrushes and so many more. You could literally play for hours just with this app. There is an up-to-date article we came across with a list of the best drawing apps for kids. Some are paid and many are free.   
"Children's drawings are used to access young children's views and experiences by listening to children as they draw and paying attention to their narratives and interpretations"

Making meaning: children's perspectives expressed through drawings 
5. Convey Ideas While Painting with Clip Studio Paint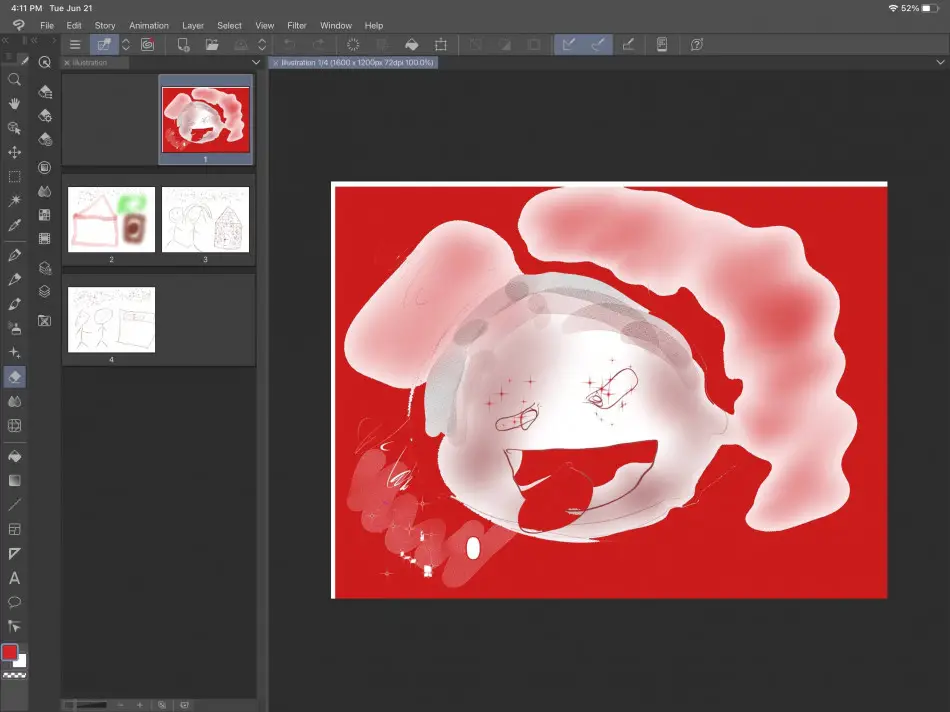 Painting is one of the best ways to tap into a child's mind and see what and how they think about the world. An Apple Pencil helps your students convey ideas and this can be done while keeping a clean environment. Using paints and oils with children can be super messy, but an Apple Pencil is the ideal way to start this art adventure in homeschool. 
"Painting is a way for children to do many important things: convey ideas, express emotion, use their senses, explore color, explore process and outcomes, and create aesthetically pleasing works and experiences."

Painting with young children: There's more to the picture
Clip Studio Paint is an amazing tool that lets your child have access to the whole range of brushes and media for painting in a clean way. The best part is that it's free at first for 3 months. You have probably never seen such an amazing piece of software that is available for free. And the possibilities for homeschooling are endless. Check out this cool video explaining what the app can do with Apple Pencil.
6. Coloring with an Apple Pencil Improves Fine Motor Skills
Coloring as a form of learning in homeschool has been around for ages. Now with an Apple Pencil, it can be done at another level. It's a great warm-up activity and it can help focus our young students to get prepared for the day. Our son is not the most interested in coloring in a normal coloring book, but he enjoys the Apple Pencil and Ipad Pro coloring. 


"Coloring and drawing both help kids improve fine motor skills. They also train the brain to focus. For parents and teachers, these inexpensive activities require limited preparation and are well-suited to travel"

The Benefits of Coloring and Drawing
Coloring with the Apple Pencil can also serve as a way to soothe and calm children. Researchers show that when kids were allowed to draw and color, drawing alone could calm them down. But the addition of coloring made the activity enjoyable also.

7. High-Tech Sketches with Autodesk SketchBook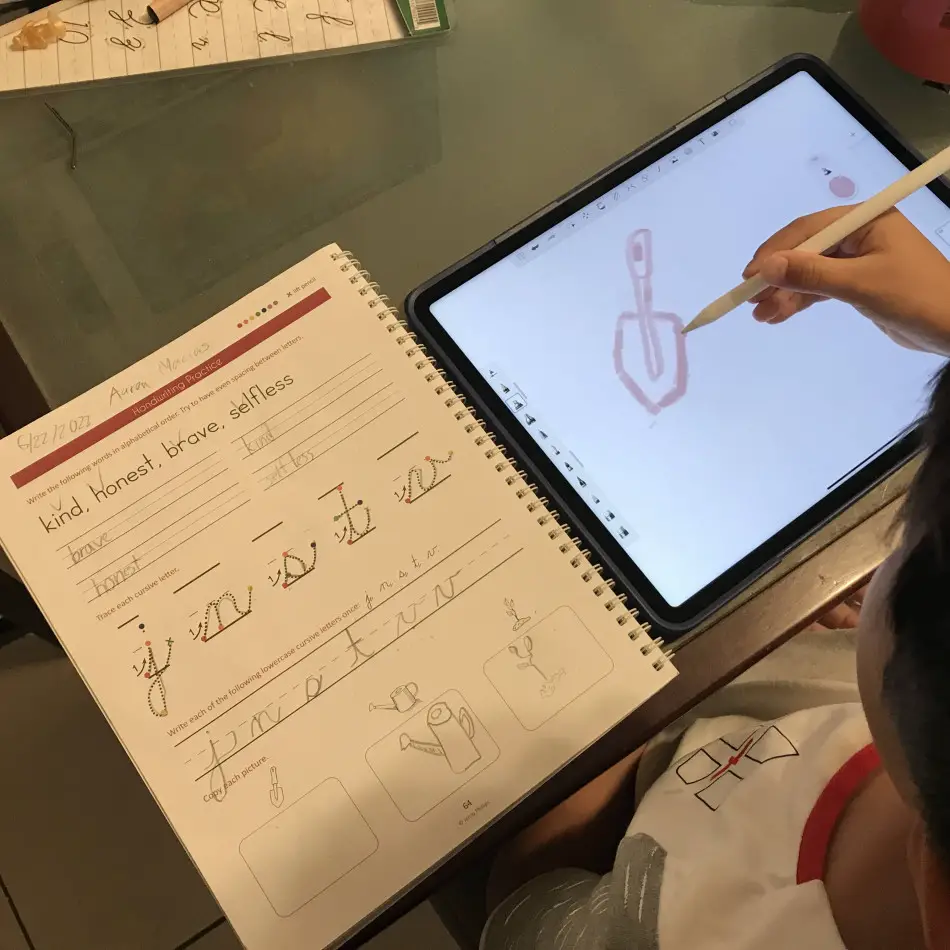 Autodesk SketchBook with an Apple Pencil is free! This amazing tool by Autodesk is another unbelievable app that lets you sketch and access so many drawing and sketch tools on the Ipad. Did you know Autodesk is also the creator of 2D and 3D Autocad systems for professional engineers? You might even want to play with it yourself after your kids are done.
Sketching is the beginning of learning how to draw and paint. In the homeschool, art is sometimes a difficult subject to incorporate. But combined with the Apple Pencil, we love it! But don't be fooled, the free software is a powerful app that you can really use to make high-quality sketches with precision. Sketching with an Apple Pencil is the doorway to learning about design as well.  
8. Makes Taking Notes for Lessons Extra Fun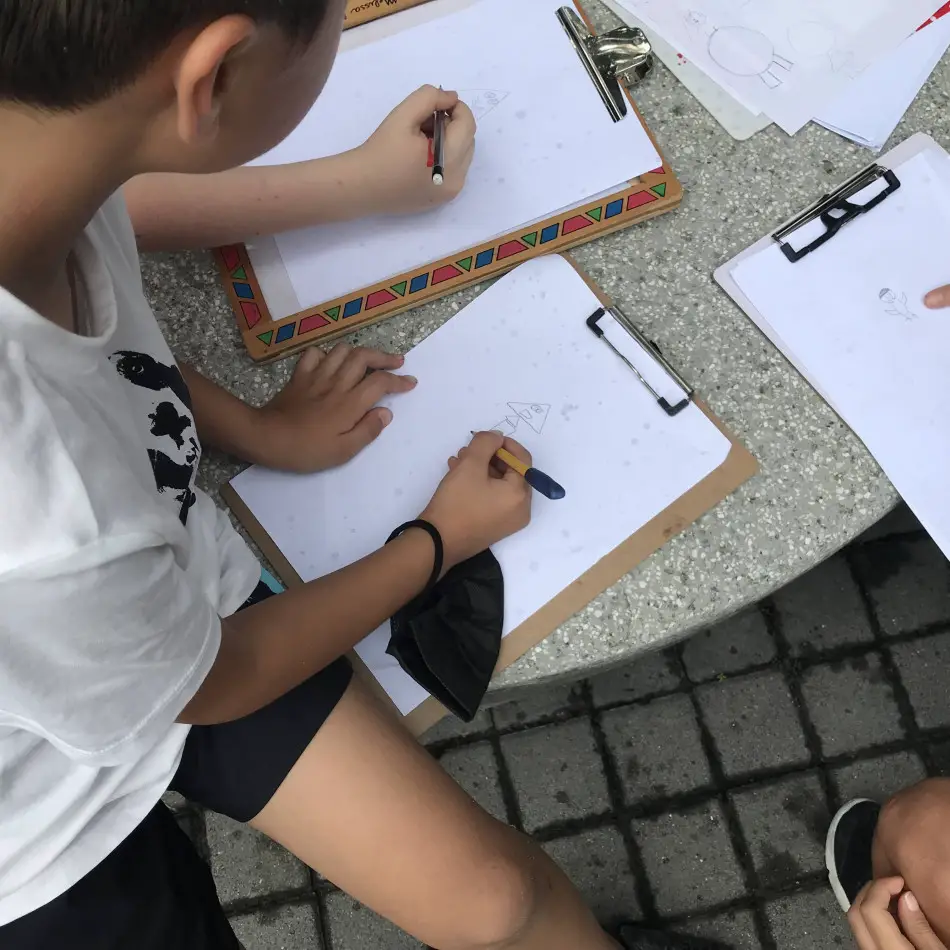 For our Language Arts and Math, we use a notebook for some lessons that require dictation, sentence composition, spelling quizzes, and poems. Using an Apple Pencil is fun for my son and he looks forward to using it. Usually, when we just use his traditional composition notebook, he wasn't so keen on notes or using it. Apple Pencil makes his note-taking and records a game and a breeze.
"note-taking strategy significantly improved their performance in note-taking and reading comprehension, and second, poor readers showed the greatest gains in note-taking skills with instruction."

The Effects of Note-Taking Skills Instruction on Elementary Students' Reading
Did you know that note-taking has benefits even in younger kids? The research shows that skills of note-taking can improve certain aspects of children's comprehension. We find that using Apple Pencil for note-taking is a plus when our son wants to take notes and enjoys it while building his skills.  
If you were wondering we are using the  Otterbox Symmetry Series Ipad pro case. It is so cool and safe to hold and protect the Ipad as well as has an easy pull-out tab for the Apple Pencil to charge.
9. Record Observations from Science Experiments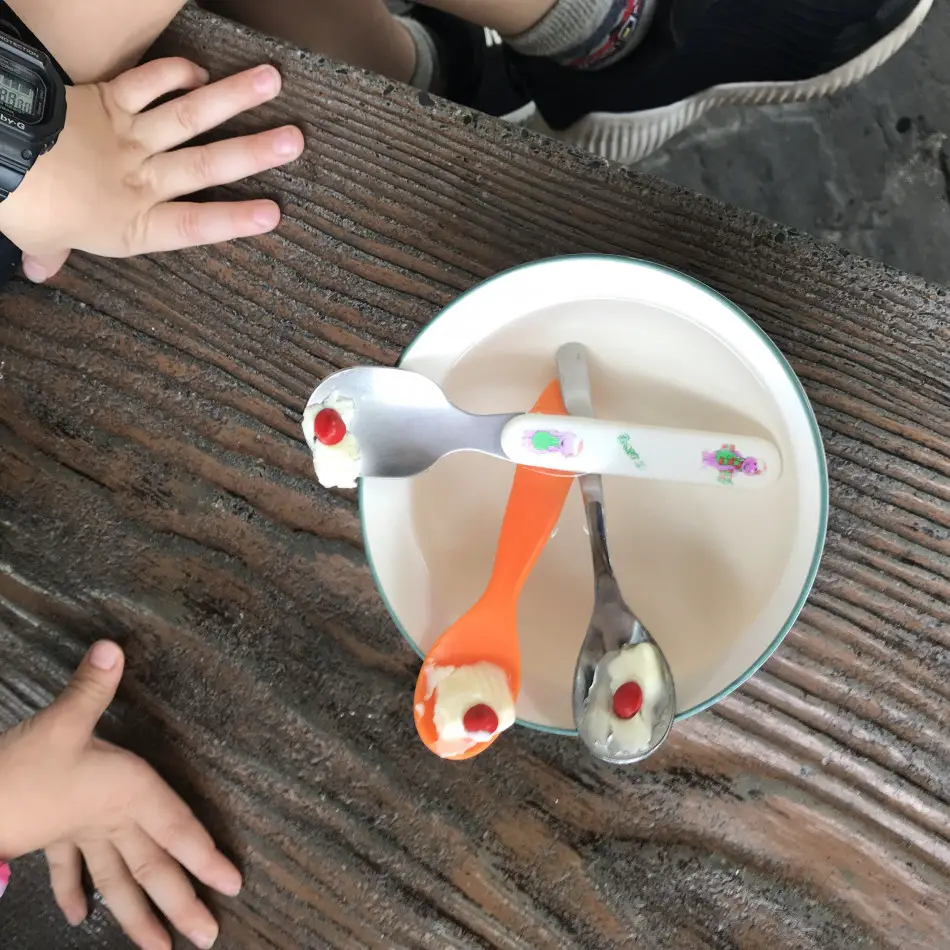 Now we use Apple Pencil to record observations for our science experiments. When we do our science classes, we sometimes choose to do it outdoors with others in a park. We promote using the scientific methods and that requires taking down notes and recording the experiment details. In the past, we would use a clipboard and notepad.
But the Apple Pencil and IpadPro combination is an unbeatable choice because it makes recording the details neat and easily sharable. We can take notes and record the hypothesis, materials, procedures, and conclusion and then send them to our other classmates and me, their teacher. I can check things easily in my own time and give them feedback at my convenience. I don't need to take any notebooks with me or return them because it's all electronic. That is a real convenience and time saver!
Dadcarestoo is a participant in the Amazon Services LLC Associates Program, an affiliate advertising program designed to provide a means for sites to earn advertising fees by advertising and linking to Amazon.com. We also participate in other affiliate programs which compensate us for referring traffic.